Battle.net Gift Cards Arrives In Stores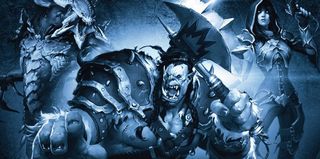 Blizzard Entertainment has released a new Battle.net Gift Card to retailers. The gift card lets players make purchases through the company's digital store.
Retailers already offer World of Warcraft time cards. Certain digital items like WoW mounts and pets can be gifted to friends as well. The Battle.net Gift Card, however, gives a more versatile option to gamers.
"Have you ever wanted to give a friend a few Hearthstone Expert Card Packs?" Blizzard said. "Or gift that epic Iron Skyreaver mount to your World of Warcraft guildmate? Good news! We've got you covered with one simple solution — the Battle.net Gift Card."
"This €20/£15 gift card is now available at a wide range of retailers across Europe. Simply pick one up at any of the stores listed below and give it to a friend. All they need to do is claim the code on the back of the card in order to charge up their Battle.net Balance, which can be used to purchase a variety of Blizzard digital items, games, and services. You can also use the gift card to charge up your own balance."
The following retailers are offering the Battle.net Gift Card:
United Kingdom: GAME, Grainger Games, ASDA
Germany, Austria, Ireland, Finland, Denmark: Gamestop
Belgium, Netherlands: Bart Smit, Game Mania
Sweden, Spain: Game, Gamestop
France: Micromania
The gift card is an indication of Blizzard's growing emphasis on microtransactions. Their latest game, Hearthstone: Heroes of Warcraft, makes its money solely through the sale of card packs, Arena passes, and DLC. Upcoming MOBA game Heroes of the Storm will operate with a similar business model. Players will be able to unlock characters along with cosmetic options by paying cash.
Even the Blizzard games that aren't F2P offer optional purchases. Most of their new releases launch with pricier digital deluxe editions featuring exclusive extras World of Warcraft still has a monthly subscription but Blizzard supplements that income by selling items and services, the most recent example being the level 90 character boost. There's a possibility that WoW will ditch the subscription and rely just on microtransactions but Blizzard doesn't have any plans to do that anytime soon.
Blizzard hasn't mentioned whether they're considering a North American release for the gift card. I can't think of a reason that they wouldn't bring it to domestic stores, though.
Your Daily Blend of Entertainment News
Staff Writer at CinemaBlend.