BioWare Co-Founder Leaves Old Republic Studio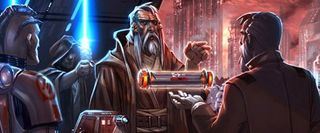 Star Wars: The Old Republic developer BioWare Austin is undergoing another major change. Greg Zeschuk, co-founder of BioWare, has stepped down as General Manager for the studio.
BioWare parent EA told GamersGlobal that Zeschuk hasn't left the company. He has returned to Canada and is taking some time off to be with his family. In the meantime, he's pondering new projects.
Zeschuk co-founded BioWare in 1995 with Ray Muzyka. Electronic Arts purchased the company in 2007. BioWare has since grown into the RPG/MMO division of EA, with six studios: BioWare Edmonton, BioWare Austin, BioWare Mythic, BioWare Montreal, BioWare Ireland, and BioWare San Francisco. Zeschuk is the Group Creative Officer of the BioWare Group, a position which apparently hasn't changed with this week's shake-up.
It's been a tumultous year for BioWare Austin. After a strong launch last December, The Old Republic has been steadily bleeding subscribers. In May, the developer was hit by layoffs. Last month, the company announced that they were switching the MMO to a free-to-play business model to keep it afloat. It was probably not a fun situation to preside over so I can't blame Zeschuk for deciding to move on to something else.
Matt Bromberg has taken over as general manager of BioWare Austin. Bromberg previously served as CEO of Major League Gaming and General Manager of online gaming at AOL.
Your Daily Blend of Entertainment News
Staff Writer at CinemaBlend.