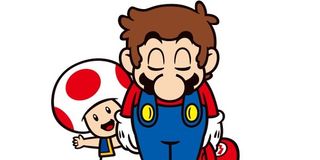 Well July is finally here and, as foretold in the press releases of old, Club Nintendo has finally closed its virtual doors. Don't fret, however, as the Big N promises a new rewards program is on the way.
In recent years, you may have noticed that any Nintendo game or piece of hardware you bought came with a little insert including a code for Club Nintendo. Once you had a profile set up on the club's site, all you had to do was enter those codes to earn virtual Coins. Those Coins could then be spent on a rotating library of rewards program games, including titles for the Wii U, Wii and Nintendo 3DS. They were usually small, indie titles or NES classics/Game Boy, but you can't really complain when you're being given an extra game every now and again simply for buying Nintendo stuff.
Club Nintendo rewards also occasionally included physical goodies, like postcards, game cases, posters and the like. Even more Coins could also be earned by taking surveys before and after purchasing a game, letting Nintendo get an idea of why people were buying their products and what they thought of them after they had a chance to play them.
Like all good things, though, Club Nintendo had to come to an end. The final announcement actually boasts a pretty cool picture of Mario humbly bowing to the loyal fans, with a simple message from the team at Nintendo:
"Club Nintendo has been discontinued," it reads. "Our heartfelt thanks to our members for your support over the years. Please stay tuned for more information on our new loyalty program."
This all falls in line with another announcement Nintendo made five months ago, letting everyone know that the loyalty program would soon come to an end. Even back then, though, Nintendo made mention of a new rewards program that would be announced at a later date.
To be honest, I don't think Nintendo could have handled this any better. Not only did they give folks plenty of warning that the program would be coming to a close, but they also gave gamers plenty of goodies to spend their leftover Coins on before the June 30 cutoff date. And I'm not talking about just a couple of games here. Nintendo's grand finale included more than 100 titles, including the indie and classic games folks familiar with the program had come to expect, as well as a bunch of more current, AAA games. On top of that, the final roster of goodies included a bunch of physical swag, too, including a rad Zelda bag, jigsaw puzzles, calendars and 3DS pouches.
Now that Club Nintendo has finally come to an end, all we have left to do is sit here patiently and wait to find out what new program will take its place.
Staff Writer for CinemaBlend.
Your Daily Blend of Entertainment News
Thank you for signing up to CinemaBlend. You will receive a verification email shortly.
There was a problem. Please refresh the page and try again.