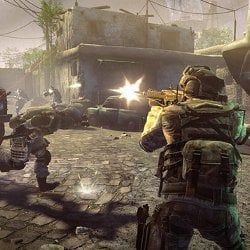 Crytek announced a new first-person shooter powered by CryEngine 3 today. It's called Warface and is in development at Crytek Seoul.
Warface is a free-to-play military shooter set in the near future. It sounds sort of like an MMO. It will have "constantly updated" PvE universe with multiplayer missions. There will also be player versus player combat.
The game will be exclusive to the PC. The press release mentions it is "especially dedicated to the Korean and other Asian markets." This doesn't necessarily rule out a Western release, though.
Staff Writer at CinemaBlend.
Your Daily Blend of Entertainment News
Thank you for signing up to CinemaBlend. You will receive a verification email shortly.
There was a problem. Please refresh the page and try again.