D3 Publishing Breaks Out Their E3 2007 Line-Up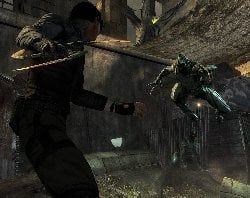 One publisher after another has come forward with their list of games and products, which are set to be released later this year or next year. In this case, it's D3's turn to shine some light on their line-up for this year's E3 business and media summit. As of course, we have all the details on the list right here at CB Games.
It's funny how D3 publishes some strikingly fascinating games, yet we don't hear too much about them. They tend to keep things rolling smoothly, releasing oddly unique titles every once and a while. In this particular case, the game I'm looking forward to the most is Dark Sector. The game has been shrouded in a lot of mystery, until the fact sheet came out not too long ago. Still, despite the videos and trailers that have been released we don't know the full extent of the gameplay mechanics, nor exactly what's really going on in the world of the game itself. Truly fascinating stuff that's sure to be explored at this year's tamed and neutered E3.
Below, you can check out the full list of games that will be on showcase or visit the Official D3 Publishing Website for more information and media.
D3 Publishing E3 2007 Line-Up:
Dark Sector: An all-new and original action-thriller designed exclusively for next-generation consoles, Dark Sector thrusts players into the role of Hayden Tenno, an elite black-ops agent sent on a dangerous mission into a decaying Eastern European city that hides a deadly Cold War secret. Attacked by an unknown enemy, he awakens to find part of his body altered by an infection that has granted him inhuman abilities and he must learn to evolve along with his powers, to survive and to become a hero. A dark, gritty experience packed with fast action, incredible superpowers and an engaging story; Dark Sector is anticipated for release in Q1 2008 for the PlayStation 3 computer entertainment system and the Xbox 360 video game and entertainment system from Microsoft.
NARUTO: Clash of Ninja Revolution: Based on the hit series currently airing on Cartoon Network, NARUTO: Clash of Ninja Revolution is an original Wii game exclusive to the North American Market and will include characters that have never been featured in the Clash of Ninja game series. The game will follow the storyline of the television series and will take advantage of the Wii Remote in fast-paced ninja action for up to four players in nine different gameplay modes. The next generation in NARUTO games will also include all new character animations, new interactive environments and special mini-games created exclusively for the Wii Remote. Co-published by TOMY Corporation and D3PA, NARUTO: Clash of Ninja Revolution is anticipated for release this fall.
Dead Head Fred: Created specifically for the PSP system, Dead Head Fred draws players into an original 1940's inspired alternative universe where players will experience an innovative and refreshing twist on Action gameplay as they collect, upgrade and switch heads on the fly to strategically fight enemies in a story of revenge and redemption. As private detective Fred Neuman, savagely murdered and then resurrected in a bizarre scientific experiment without his memory or his head, players embark on a quest for vengeance as they solve their own murder by using the severed heads of enemies to battle their way through challenging but bizarre environments. Dead Head Fred is anticipated for release on August 28, 2007.
Ben 10: Protector of Earth: Players will take on the role of Cartoon Network's popular everyday-kid-turned-alien-hero, Ben Tennyson. Using the power of the Omnitrix which has embedded itself on Ben's wrist, players will be able to battle as one of five popular alien heroes from the show. By taking on these amazing powers, players can battle to save the world through the game's diverse challenges, puzzles and skirmishes. Ben 10: Protector of Earth is anticipated for release this fall for the Wii, PlayStation2 computer entertainment system, Nintendo DS portable handheld system and PSP system.
Dragon Blade: Wrath of Fire: Designed specifically for the Wii system, Dragon Blade: Wrath of Fire is a 3rd person action-adventure game where players unleash the magical powers of a fierce dragon, creating a unique and visually stunning weapon through their sword and arms. Players will utilize an intuitively designed, two-handed Wii control scheme and use both arms simultaneously to emulate the dragon's arms, wings, tail, fire and more as they embark on an epic fantasy adventure in more than 20 unique environments in 6 visually stunning worlds. Dragon Blade: Wrath of Fire is anticipated for release this fall.
NARUTO: Path of the Ninja: Following the story line from the Cartoon Network television show, Naruto: Path of the Ninja for Nintendo DS will allow players to explore the Village Hidden in the Leaves and the world of Naruto as they roam across forests, fields, rivers and mountains. Along the way players will encounter bosses and enemies that they must use their special techniques to defeat. Each of the 6 playable characters will possess a unique time-based combat system and players will train their Ninja team to learn more than 90 different Jutsu techniques. Co-published by TOMY Corporation and D3PA, NARUTO: Path of the Ninja is anticipated for release this fall.
Staff Writer at CinemaBlend.
Your Daily Blend of Entertainment News
Thank you for signing up to CinemaBlend. You will receive a verification email shortly.
There was a problem. Please refresh the page and try again.