Deus Ex: Human Revolution Goes Gold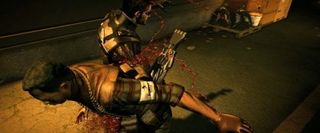 The wait for one of the most hotly anticipated games this entire generation is almost over as Square Enix has announced that Deus Ex: Human Revolution has officially gone gold, which means you'll be stabbing people, hacking computers, upgrading your arms, and crying your eyes out at the amazing story sooner rather than later.
Stephane D'Astous, general manager of Eidos-Montreal commented in the press release, saying…
Most gamers would probably just pay to watch that E3 2010 trailer all day long. Man, that trailer was awesome. Anyway, the game itself is a mixed-genre action-RPG that puts players in the role of Adam Jensen, an espionage agent who was forcefully given biomechanical augmentations and finds himself at the center of a world conspiracy involving the wave of new augments flooding into society.
The game deals with a ton of mature subject matter and it's one of the few games this year that really seems to be aiming to move the gaming industry forward in a number of ways. The game is set for release on August 26th of this year for the Xbox 360, PS3, PC and OnLive.
For more info or the option to pre-order the game, feel free to visit the Official Website.
Staff Writer at CinemaBlend.
Your Daily Blend of Entertainment News
Thank you for signing up to CinemaBlend. You will receive a verification email shortly.
There was a problem. Please refresh the page and try again.