Deus Ex: Human Revolution Launch Trailer Marks North American Release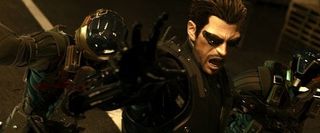 Deus Ex: Human Revolution hit stores in North America today. The action RPG is available for the PS3, Xbox 360, PC or OnLive.
"With the release of Deus Ex: Human Revolution, Eidos-Montreal has reached a huge milestone in the development and delivery of our first game," said Stephane D'Astous, Eidos Montreal general manager. "We could not be more proud of DEUS EX: HUMAN REVOLUTION and are incredibly excited for gamers to finally be able to experience this captivating story and unique, unparalleled gameplay."
Human Revolution serves as a prequel to the first two Deus Ex games. Adam Jensen, a security guard, is badly wounded in an attack on his company. He's given cybernetic augments in order to save his life and soon finds himself caught up in a global conspiracy.
The Deus Ex series' signature feature is its open-ended gameplay. Players can use a variety of equipment and augmentations to complete objectives in different ways. For example, you can charge into an enemy base with your guns blazing, sneak in through a window with your cloaking device, or hack the lock on a side door.
The game is available in Standard and Augmented Editions. The Augmented Edition costs $10 more but comes with the following extras:
40-page Artbook
Exclusive Bonus DVD: Making Of, Special Trailers, Animated storyboard of CGI trailer and Soundtrack
Premium Packaging
Motion Graphic Novel
To make one final case for the game, Eidos Montreal sent out a launch trailer. Check it out below.
Staff Writer at CinemaBlend.
Your Daily Blend of Entertainment News
Thank you for signing up to CinemaBlend. You will receive a verification email shortly.
There was a problem. Please refresh the page and try again.