E3 2013: Tecmo Koei Unveils Their Game Line-Up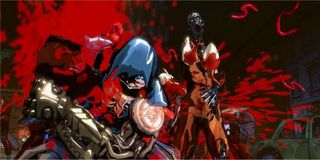 We have just under two weeks to go before E3 gets here and publishers are just barely rolling out their E3 line-ups. I guess a lot of them are either trying to figure out how much they could make from Microsoft's used game fees for the Xbox One or they just don't have a lot to announce right now until the big conferences kick into high gear. Either way, Tecmo Koei unleashed their line-up for this year's epic trade show event.
Tecmo's line-up will be headlined by the zombie ninja game, Yaiba: Ninja Gaiden Z. The game will lead a charge of ultra-violent, historical and off-beat games under the Tecmo Koei label this year at the Electronic Entertainment Expo. The details on the games can be viewed below with their official press rollout fact sheet.
I know the PSV gets a lot of flak for selling under the expectations par, but it at least has a very varied selection of games out there and even more diverse games coming later this year. The portable device really could shine with the right line-up of titles to exploit its features and a decent price cut. Just maybe...just maybe they can catch the Nintendo 3DS? Ha, nah.
Anyway, Tecmo's line-up isn't looking too bad. The games are very expected and hopefully they're likely to unveil something for the next-gen consoles, as many titles these days have become a bit trite compared to what could be done and what isn't being done, namely expanding on various unexplored genres and themes that don't include a ninja fighting zombies.
Tecmo Koei will be hand at E3 in the West Hall, Booth #4700. Key members of the design teams will also be on hand for interviews and appointments. Need more info? Well, we don't have anymore. You'll just have to wait for E3 on June 10th.
Staff Writer at CinemaBlend.
Your Daily Blend of Entertainment News
Thank you for signing up to CinemaBlend. You will receive a verification email shortly.
There was a problem. Please refresh the page and try again.