Elder Scrolls Online Beta NDA Lifted, Time To Start Sharing Videos And Screenshots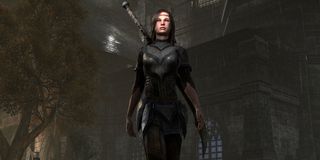 ZeniMax Online Studios has finally lifted the non-disclosure agreement for Elder Scrolls Online. Beta testers can now talk freely about their experiences with the MMORPG.
"Testers have been chomping at the bit to post their impressions of The Elder Scrolls Online publicly, and we're ready to set you loose on the world," ZeniMax said on the ESO website. "Starting today, the Non-Disclosure Agreement has been lifted, so you'll be able to share your thoughts!"
ZeniMax added: "You'll be free to capture and share footage and screenshots, stream your gameplay, and talk about the game wherever you'd like during that test (and in future tests). We want to see what you have to say, so share your thoughts, guides, articles, and impressions with us on Facebook, Google+, Twitter, and Tumblr!"
The ESO's beta restricted players from even admitting that they were selected for the beta. I found the situation pretty ridiculous so I'm glad that ZeniMax decided to remove the restrictions. There are thousands and thousands of gamers looking forward to ESO. It only makes sense for them to be allowed to talk up the game in advance of its launch. The runaway success of games like Minecraft and DayZ have proved that YouTube and Twitch footage from gamers can be powerful marketing.
Elder Scrolls Online's closed beta began in early 2013. The developers are holding a series of weekend tests rather than one continuous beta. There's no test this weekend but the next one is coming soon. Invites will be sent out a few days in advance so you can start preloading the client in advance. There won't be an "open beta" for the game but ZeniMax promises that everyone who signed up for the test will eventually get an invitation.
ESO is set in the same world as single-player Elder Scrolls role-playing games like Morrowind and Oblivion. Players join one of three factions battling for control of Tamriel. The mortal races must also save the world from outside threats like the daedric prince Molag Bal.
The game will launch on both PC and Mac in April. The Xbox One and PS4 release will follow in June. The beta is currently limited to PC but console tests should begin in the coming months.
Image 1 of 6
Image 2 of 6
Image 3 of 6
Image 4 of 6
Image 5 of 6
Image 6 of 6
Staff Writer at CinemaBlend.
Your Daily Blend of Entertainment News
Thank you for signing up to CinemaBlend. You will receive a verification email shortly.
There was a problem. Please refresh the page and try again.