The Fallout 4 Mobile App Has Made A Ridiculous Amount Of Money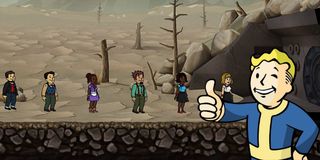 It wasn't enough to blow audiences around the world away with Fallout 4 and its multitude of features during E3 2015. Bethesda went one step further and offered a free-to-play app that would be made available right after the Bethesda Showcase. And it's making quite the racket when it comes to monetary success.
That particular app is Fallout Shelter, and it's made an astronomical amount of money since its inception directly after Bethesda's show. GamesRadar reports a profit of $5.1 million in its first two weeks of being live on the App Store, to be precise. Thanks to information collected by sales tracking organization SuperData, we can see that, despite being a free-to-play adventure with optional in-app purchases, Fallout Shelter is, and has been, absolutely slaying.
It's an impressive number to be sure, especially since there's no admission price for this companion app. You only have to worry about spending money if you want to buy special items like lunch boxes and other items in the game. Otherwise, you can play to your heart's content, so long as you've got enough Vault Dwellers coming in and the energy to do what you need to do in-game to flourish, there's plenty of time and incentive to keep going.
It's more like a town/community-building game in the vein of Tiny Tower or Tiny Death Star that places you in the shoes of a newly-minted Overseer. You'll build all of the rooms and facilities that your tiny vault dwellers need, including living quarters, a diner area, and shelters for them to, well, couple. So you can even have little babies born in the Vault, which you can customize to your liking. If you're quirky, perhaps you'll try and keep one male dweller around and a whole bunch of women just to be weird, but that's not going to help you in-game. You can even send out your little minions to explore the Wasteland and bring you back equipment and other goodies.
The game's got equipment with which you can outfit your vault dwellers to go out and explore. It's a colorful, busy endeavor that's probably going to be able to tide you over until the actual release of Fallout 4, and that's probably exactly why it's doing so well for Bethesda.
Or, you've got a whole bevy of people combing the App Store who think for some reason Fallout 4 is headed to mobile devices and they're downloading and enjoying the game, mistakenly thinking this is the game all the hype is for. Either way, it's interesting. And definitely worth downloading, especially if you love the Fallout series and want to play around in it a bit more until the latest entry releases later this year on November 10th.
Your Daily Blend of Entertainment News