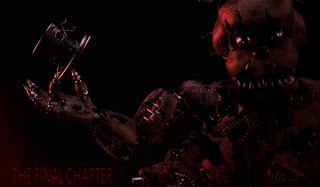 Scott Cawthon has announced Five Nights at Freddy's 4 with a teaser image. The image suggests this is going to be the last game in the horror series.
FNaF4's lone picture, posted on Cawthon's website, features the animatronic robot Freddy Fazbear. He looks even creepier than usual here. His body seems to be sprouting smaller Freddy heads, each with their own top hats and sets of razor-sharp teeth.
The image proclaims Five Nights at Freddy's 4 to be "The Final Chapter." I have a hard time believing that any horror series will ever end, though. Titles that suggest the franchise is about to end tend to mean the opposite in that genre. Urban Legends: Final Cut had a sequel. Freddy's Dead: The Final Nightmare was followed by three more movies. Friday the 13th: The Final Chapter had eight sequels.
We don't know anything about Five Nights at Freddy's 4's plot yet but it's probably not a prequel like the second game. Fazbear's ragged appearance in FNaF4's first image suggests that the game takes place after the third installment. However, there's a thirty year gap between the first and third game in the series that this new chapter could explore.
Five Nights at Freddy's 4 will be coming out on October 31st of this year. That's a far longer wait than we've seen for previous sequels in the series. FNaF2 and FNaF3 came out three months and four months after their preceding game, respectively. That may indicate that FNaF4 is bigger or very different from previous games. Or maybe he just wants to take some time off during the summer.
In the Five Nights at Freddy's series, players work the night shift at a restaurant (or theme park, in the case of FNaF3) inhabited by animatronic robots. These robots are known to wander at night and will kill anyone they come across. The player has to monitor them with cameras and then use other items to ward them off from their security office. Over time, they can find out details about why the robots go on murderous rampages.
What's remarkable about these games is how popular they are in spite of any traditional marketing. In the past, Cawthon's launched sequels just weeks after revealing them for the first time. Word-of-mouth and YouTube then did all the publicity work. The jump scares of the Five Nights games have made them a very popular game for Let's Play videos. Look how the series' YouTube traffic stacked up against other top franchises last month (via NewZoo):
1. Minecraft – 3.934 billion views
2. Grand Theft Auto – 1.393 billion views
3. Five Nights At Freddy's – 1.273 billion views
4. Call of Duty – 851 million views
5. FIFA – 770 million views
6. Garry's Mod – 690 million views
7. League of Legends – 667 million views
8. Mario – 547 million views
9. Counter-Strike – 362 million views
10. Dota 2 – 282 million views
Many other franchises on that list have more players and publishers willing to aggressively promote each new release. Yet Five Nights manages to beat many of them because it's well-suited to YouTube. That unexpected popularity is no doubt part of the reason a Five Nights movie is on the way. We'll see in six months whether that series still commands an audience.
Your Daily Blend of Entertainment News
Staff Writer at CinemaBlend.