Five Nights At Freddy's World Release Date Narrowed Down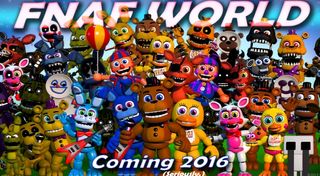 Scott Cawthon has managed to construct a small empire out of the Five Nights at Freddy's brand. It's become a rather sizable force to be reckoned with in the gaming world. The property, however, is being expanded outside of its horror roots and Cawthon has narrowed down when gamers can expect for the new property to arrive.
Over on the official Scott Games website there's a giant image with all of the Five Nights at Freddy's animatronics and their various iterations rendered into a single collage. It's quite expansive to see just how many different animatrons were in the series. At the bottom of the image, however, there's the big words "Coming 2016" and right underneath that is the word "seriously".
In previous posts Cawthon had explained to the fans and his dedicated community of followers that Five Nights at Freddy's World, his latest iteration of the popular series, won't be a horror game. In fact, it'll be a role-playing game set within Freddy Fazbear's world.
Given the bright visuals of the poster and the neon pink font, it's not hard to imagine that this will be a more easy-going game for kids of all ages. I'm curious how the Nightmare renditions of the animatrons will play a role in the game? I mean, those things look fairly terrifying and it's hard to imagine how they'll be utilized in a non-horror way. Heck, even when Freddy and his friends weren't terrorizing the player, the animatronic puppets still looked frightening. Let's not forget about that real-life Freddy Fazbear unit someone built, which still managed to scare the goosebumps out of a lot of people when the video went viral online.
There hasn't been a lot of details or information about Five Nights at Freddy's World, but the general gist of it is that it's a role-playing type experience where players will interact with and encounter all of the popular characters from Scott Cawthon's expansive and eerie universe.
It's a significant departure from the typical Five Nights at Freddy's games because it's no longer a horror-survival title but instead an adventure game. According to Cawthon, he explained previously that the horror series ended with Five Nights at Freddy's 4: The Final Nightmare. However, he also mentioned that there would be some special surprises for Halloween.
I'm just curious how well this new game will fare in light of it not being a horror title? Part of the big sell for the original four games is that it's a horror title that's really popular with YouTube culture. If the new game is just a standard adventure title then it's far less than likely that it'll be a big hit with the YouTube audience, and in turn I do wonder how it would affect sales?
Then again, maybe Cawthon has reached a point in his career where he can say "screw sales!" and just make a Five Nights at Freddy's game that he wants to, and ignore the critics and just do his own thing.
Either way, the new game is due for release on PC in 2016. On the bright side, fans looking for more horror out of the series can look forward to the horror movie based on Five Nights at Freddy's.
Staff Writer at CinemaBlend.
Your Daily Blend of Entertainment News
Thank you for signing up to CinemaBlend. You will receive a verification email shortly.
There was a problem. Please refresh the page and try again.