GTA 5 Adds Surprise Halloween DLC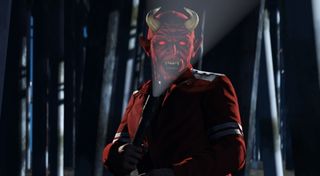 Rockstar Games just announced that they have a surprise bit of DLC for Halloween with a Halloween weekend event containing brand new masks, face paint, new vehicles and a brand new mode themed after slasher movies. It's all free and taking place right now.
Over on the Rockstar Games website they announced that the GTA Online event has started right now for Xbox One, PS4 and PC users. The two new vehicles are basically cars already in the game but they've been overhauled with liveries to give them a more ghoulish look to match the spooky atmosphere of Halloween.
The Lurcher Hearse and Franken Stange are the two new vehicles and they offer gamers 20 different bobble heads that can be added to the dashboard and they'll be available throughout most of November, up until November 16th. The Hearse contains a skull livery sprawled across the side while the Stange is a glossy, purple roadster with flames stretching across the front end.
If players acquire the Hearse or Stange in GTA Online any time before November 16th they'll be able to permanently keep both vehicles even after the Halloween event ends.
As for the masks, there's 30 new face paint styles for players to be able to use during heists and a couple of new masks that will be available as well, all themed around the horror of Halloween.
The most impressive part of the update is most definitely the new Slasher Adversary mode for GTA Online. This mode effectively turns GTA Online into a horror-survival experience where seven players attempt to survive for three minutes against another player who wields a mask and a shotgun. The objective of the adversary is to take out the seven victims before time runs out.
Now usually in GTA V players will have a vast assortment of weapons at their disposal to dispense of any threats coming their way. However, in this case the seven players will only have a flashlight to navigate and will have to attempt to get away from the adversary carrying a shotgun. But if players are able to survive for more than three minutes, they'll be given access to a shotgun of their own and carry out some righteous revenge.
Slasher Adversary mode is designed for up to eight players, so it's not as big and bombastic as the other deathmatch or team deathmatch modes.
This is the kind of mode that really helps give GTA Online a feeling of freshness and uniqueness. It's kind of a shame it took two years and the excising of the Xbox 360 and PS3 from the picture before this kind of creativity started creeping into the mode more often.
With Rockstar starting to focus their GTA V updates solely around the Xbox One, PS4 and PC, it'll definitely be exciting to see what other creative modes they come up with situated within the engine. There are a ton of possibilities and it seems like GTA Online right now is still only barely scratching the surface.
Your Daily Blend of Entertainment News
Staff Writer at CinemaBlend.