GTA 5 PC Pre-Order Comes With Free Game, In-Game Cash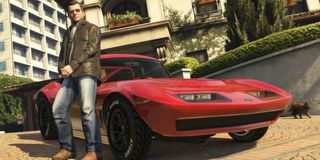 Rockstar Games is offering a couple perks to PC gamers that decide to pre-order Grand Theft Auto 5. One of these pre-order bonuses is a full free game developed by Rockstar.
If you pre-order through Rockstar Warehouse by February 1st, you'll get a digital copy of one of these games:
Bully: Scholarship Edition
Grand Theft Auto: Episodes from Liberty City
Grand Theft Auto: San Andreas
Grand Theft Auto: Vice City
Grand Theft Auto 3
Grand Theft Auto 4
L.A. Noire: The Complete Edition
Manhunt
Max Payne 2: The Fall of Max Payne
Max Payne 3
Midnight Club 2
Furthermore, you'll get $300,000 of in-game cash for GTA Online. That nest egg should help you get a nice set of equipment for your starting character and ensure that you're not just easy pickings for players that transferred their GTAO characters from earlier editions of the game. It also means you're less likely to need to spend real-world money on a cash pack.
Even if you miss out the February 1st deadline, you'll still get plenty of bonus cash. Everyone who pre-orders the game will get $500,000 for GTA Online and another $500,000 for their single-player characters.
Rival stores like Steam, Green Man Gaming (opens in new tab) and Gamersgate (opens in new tab) have nearly identical incentives for pre-order customers. However, the only free game they offer is Grand Theft Auto: San Andreas. Rockstar Warehouse seems to be the only digital shop offering a choice of freebie.
The PC version of GTA 5 was supposed to launch at the end of January. However, Rockstar announced a two-month delay this week.
"Our apologies for the slight shift in the date but the game requires a few extra weeks of testing and polish to make it as good as can be," Rockstar said at the time. "Moving a release date is never a decision we take lightly and is a choice we make only when we know it is in the best interests of the game and our fans. Thanks everyone for your understanding and we assure you these few extra weeks will be worth it when the game does arrive in March."
Someone's bound to say that these pre-order bonuses are their way of apologizing to PC gamers for the delay. I'd think it's more accurate to say they're an attempt to boost sales for a port of what will be an 18-month-old game. Most GTA fans have already bought the game on a console so Rockstar needs to do whatever they can to sweeten the pot and ensure double-dipping. If that means throwing around some virtual cash (which costs them nothing to give out), then so be it.
GTA 5 will launch on PC on March 24th. All the digital stores offering the game for pre-order note that you'll be able to preload the files beforehand. That's great news, considering the game requires 65GB of your PC's hard drive.
Staff Writer at CinemaBlend.
Your Daily Blend of Entertainment News
Thank you for signing up to CinemaBlend. You will receive a verification email shortly.
There was a problem. Please refresh the page and try again.