GTA 5 Steals The Show On PSN This Week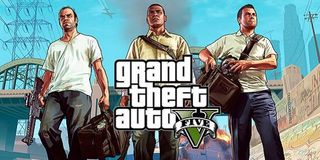 Tomorrow is Tuesday which, over on the PlayStation Network, means it's time for a brand new crop of games for players to dive headlong into. This week's offerings may appear a bit light, however, and that's simply because most publishers didn't want to go toe-to-toe with the 700-pound gorilla strutting onto the scene this week, Grand Theft Auto V.
That's right, boys and girls, your days of jacking cars, robbing banks, building a crime empire and trying to outrun the authorities are finally here as Rockstar's latest massive open world adventure, Grand Theft Auto V finally arrives in both physical and and digital formats.
"Grand Theft Auto V introduces gamers to a trio of protagonists pulled (once again) into a life of crime," said Sony Social Media Specilist Ryan Clements in this week's listing for The Drop. "New to the series, Grand Theft Auto V supports dynamic switching between these three characters, enabling players to weave in and out of action—and the sprawling city of Los Santos. Plan heists, drive luxurious cars, grab a round of golf or just cause trouble."
Speaking of that massive city, it was revealed last week that Los Santos is basically bigger than all other previous GTA maps combined. That means you'll be spending quite a number of hours in Rockstar's latest living virtual world, complete with the developer's trademark controversial content and enough missions to tackle to keep you playing for hour on end.
On a more personal note, I'll actually be skipping GTAV for the time being and, yes, it feels crazy to be typing those words. But with a very strong rumor whipping around the internet about a possible next gen version of the game set to launch at some point, I figure I can wait just a liiittle bit longer and see if I'd rather visit the city of Los Santos from the PS4 or Xbox One.
As I said, the rest of this week's new offerings is decidedly light, with only a trio of smaller titles willing to share the spotlight with GTAV. First up is Real Boxing for the PlayStation Vita. Originally released on iOS, Real Boxing for the Vita includes a whole bunch of new bells and whistles, including new modes, new graphics and even more realistic fighting.
If GTAV happens to be a little too graphic for the kiddies, then maybe you'll be interested in Hot Wheels World's Best Driver instead. I mean, it's like GTA, but for kids, right? Okay, maybe not even remotely close. But both games do have driving.
And finally, if you're more into old school fighting than pulling off a carefully orchestrated heist, then maybe you'll want to grab this week's PlayStation 2 Classic instead. Capcom Fighting Evolution is another one of those brawlers that unites multiple franchises, giving players a wide selection of pugilists to chose from pulled from some of Capcom's greatest games.
Look for all of that and more to go live once the PlayStation Network updates Tuesday afternoon.
Staff Writer for CinemaBlend.
Your Daily Blend of Entertainment News
Thank you for signing up to CinemaBlend. You will receive a verification email shortly.
There was a problem. Please refresh the page and try again.