GameStop Buy Two, Get One Free Sale Begins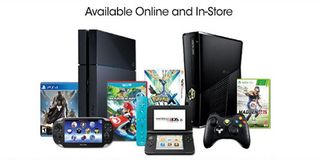 GameStop wants to make the most of the Christmas and holiday weekend by getting gamers to spend any and all their gift money on new and used games and consoles. In fact, they even have a special buy two, get one free sale going on right now and through the weekend to entice fence-sitters.
According to GameSpot, GameStop has a deal running right now – it originally started on December 25th – and it will run up until December 28th, this Sunday.
What's so special about the deal? Well, you can buy any two games, consoles or accessories and get one free. Of course, as mentioned in fine print over on the GameStop website...
Yeah, so if you were thinking about combining offers and making off good with some cheap games and hardware, think again. If you were also thinking about buying two cheap games for like $6.99 and walking away with a free Xbox One, PS4 or Wii U... think again.
Essentially, your free item will only be free if it's of equal or lesser value to the two other items you bought. So if you bought a PlayStation 4 and an Xbox One, you might be able to escape with a free Wii U. In that case, that's a pretty sexy deal... although, I'm pretty sure you'll need to hash out the details with the store clerk before assuming that's how things will go.
Of course, anyone who picks up something like Assassin's Creed Unity and Halo: The Master Chief Collection – two games that made it on our list of the most disappointing games of the year – you could get Far Cry 4 for free, which would be a nice way to make up for the other games.
Some of the titles that are available on GameStop's list includes heavy-hitters in the sales and critical acclaim department, such as Grand Theft Auto V, Halo 4, Call of Duty: Black Ops II and Mario Kart 8 to name but a few.
The games range in price, going as low as $4.99 for Battlefield 3 or $6.99 for something like Grand Theft Auto IV, to $9.99 for Assassin's Creed II or $39.99 for Destiny.
The prices really do vary and depending on what you pick up will determine whether or not the deal is really worth it.
It's hard for me to see it as much of a worthy sale to get excited over when you compare some of the prices going on at the moment on Steam. I mean, you can grab some of these games – the ones that aren't console exclusive, of course – for as low as $1.99. It's kind of hard to beat those prices, especially when you could buy two or three games on Steam for the price of one of the games at GameStop.
The only upside to GameStop's offer is that you can also get the actual physical discs for games. So that could add some extra weight to the weekend sale, assuming you haven't bought entirely into the all-digital future. You can check out the complete list of games and hardware available during the discount by paying a visit to GameStop's official website.
Staff Writer at CinemaBlend.