Guild Wars 2 Beta Access, Headstart Included With Pre-Purchase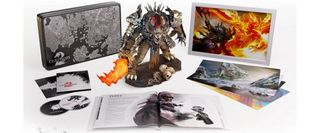 Today NCsoft announced that they'll allow gamers to pre-purchase the MMORPG Guild Wars 2 on April 10th. By pre-purchasing the game, you'll be able to play the game before anyone else.
Purchasing any edition of the game will guarantee you access into all upcoming beta weekend events. Furthermore, you'll be able to start playing the final version of the game three days before it officially launches to the public. NCSoft will also throw in a Hero's Band that gives your character various bonuses.
There will be three editions to choose from. The Standard Edition, which costs $59.99, comes with just the game itself. The Digital Deluxe Edition, priced at $79.99, includes these in-game extras:
Summon Mistfire Wolf Elite Skill - "This unique elite skill allows the player to summon a temporary Mistfire Wolf pet for use in combat."
Rytlock Miniature - "This rare miniature is a perfect replica of Rytlock Brimstone and will accompany your character on all of their adventures throughout Tyria."
Golem Banker - "Your very own golem banker, at your command for 5 days! This mechanical man-servant will grant you access to your account storage from anywhere in the world."
Chalice of Glory - "Earn some extra Glory with this one-time use chalice. Use Glory to unlock rewards in PvP as well as compare your progress against other players."
Tome of Influence - "Give your guild a one-time boost of influence. Useful for unlocking guild vaults, emblems and other items for your guild."
The $149.99 Collector's Edition gives you everything in the Digital Deluxe package as well as these items:
10-inch figurine of Rytlock
112 page Making of Guild Wars 2 book
Custom Art Frame
Art Portfolio and Five Art Prints
Best of Guild Wars 2 Soundtrack CD
Guild Wars 2 is expected to launch later this year.
Staff Writer at CinemaBlend.
Your Daily Blend of Entertainment News
Thank you for signing up to CinemaBlend. You will receive a verification email shortly.
There was a problem. Please refresh the page and try again.