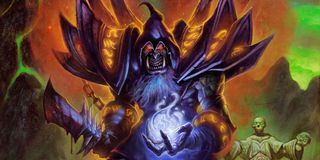 Hearthstone has finally debuted on Android tablet devices. Blizzard has rolled the game in three countries with more to come in the upcoming days.
Today's launch is limited to Canada, Australia and New Zealand through Google Play. If the iPad launch was any indication, though, you'll find a way to circumvent that restriction. The global release on Google Play and the Amazon Appstore should happen later this week.
"Hearthstone's intuitive interface and approachable design make it a perfect fit for tablets, and we've put a lot of effort into ensuring players have a great experience on a wide range of Android devices," said Mike Morhaime, CEO and co-founder of Blizzard Entertainment. "We're excited to welcome Android players to the Hearthstone community, and we're looking forward to bringing the game to even more mobile platforms—including phones—in the future."
To play the Android version, you'll need a device with a 6-inch screen or larger. The tablet will need the 4.0 operating system or later along with 1 GB of RAM. Here's the list of supported devices from Blizzard's support site:
Amazon Kindle Fire HD 6 (2014)
Amazon Kindle Fire HD 7 (2014)
Amazon Kindle Fire HDX 7 (2013)
Amazon Kindle Fire HDX 7 (2014)
Amazon Kindle Fire HDX 8.9 (2014)
Asus Google Nexus 7 (2013)
Huawei MediaPad X1
NVIDIA SHIELD Tablet
Samsung Galaxy Mega 6.3 I9200
Samsung Galaxy Note 8.0
Samsung Galaxy Note LTE 10.1 N8020
Samsung Galaxy Note 10.1 (2014)
Samsung Galaxy Tab Pro 8.4
Sony Xperia Z2 Tablet LTE
Blizzard adds that the Asus Transformer Pad TF300T is incompatible with Hearthstone. Devices with PowerVR540/544 GPUs could have graphical issues. They recommend updating your device's OS to Android 5.0 or Fire 4.5.1.
Hearthstone, if you're not aware, is a collectible card game. Players choose from nine different heroes from Warcraft lore, each with their own unique abilities and cards. In head-to-head battles, they draw cards that allow them to summon minions or cast spells. The base game allows players to battle A.I. or human opponents. New card packs can be purchased with real-world money or gold earned through matches.
The Android version launches with both of its expansions. Curse of Naxxramas features 15 A.I. bosses for players to defeat. By besting these bosses and the class-specific challenges, they'll earn new cards for their collection. Goblins vs. Gnomes doesn't have any single-player content but adds a whopping 120 cards to the game. It also introduces a new Mech type of minion along with a Spare Parts mechanic.
Blizzard is also developing iPhone and Android smartphone versions of Hearthstone. They expect the game to be available on those devices sometime next year. The smartphone editions are taking extra time because of the special interface they require.
"It's very important to us that the phone experience for Hearthstone is just as accessible as the tablet and PC versions," Blizzard said in October. "One of the biggest challenges with that is revamping the user interface so it feels intuitive and offers the same quality Hearthstone experience, but this time from the palm of your hand."
Your Daily Blend of Entertainment News
Staff Writer at CinemaBlend.