Improve Your Night Time Play With Battlefield 4: Night Operations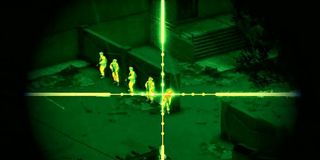 Hey there, lonely boys and girls spending your evenings playing video games alone. The team at DICE wants to spice up your night life with some hot new Battlefield 4 action specifically designed to be enjoyed with the lights turned down low. Get ready for "Night Operations," guaranteed to show you a good time as part of the upcoming September update.
You read that introduction in a whispered voice with some slow jazz playing in the background, right? That might actually be the best way to tackle Battlefield 4 in the coming weeks, as Night Operations will deliver exactly what it sounds like: Multiplayer gameplay specifically tweaked for improved nighttime combat.
Announced over on the Battlelog, Night Operations are a direct reaction from player feedback, offering nighttime maps, improved gear and settings for this trickier breed of warfare. So once the September update rolls out, one of the first things you'll likely want to do is check out the new Graveyard Shift map.
"We quickly realized there was more to it than making a pretty map," explained Community Manager Fixnow. "It would need to feature a new sound landscape, destructible lights, and a different sort of gameplay. This led to us focusing on the creation of Zavod: Graveyard Shift, based on Zavod 311, a new map that brings with it several improvements and tweaks to allow for more stealthy and tactical gameplay."
DICE didn't just remove the sun from the sky and pepper in some additional fog to make this new map more appealing to Twilight fans. Instead, the map actually boasts tweaks to passive/active spotting, an improved sound system so you can hear enemies sneaking about, as well as some extra attention paid to the "gadgets and tools of the night" to make sure they perform especially well in their preferred setting.
The Graveyard Shift map will also support all standard game modes, including Conquest, Rush, Obliteration, Team Deathmatch, Gun Master and, my personal favorite, Domination. The Graveyard Shift map may actually pull me away from Domination for a while, though, as Fixnow is reporting Gun Master will play very differently in this new nighttime setting.
"We realized it would be cool to have a second, even darker layout – one with a special new Weapons Preset specifically tailored for nighttime," he continued. "So, we made one – this is the first time we created a secondary layout to a map for any game mode."
On top of all of that hot nighttime fun you'll be having, the September update for Battlefield 4 will also boast some additional fixes for the rest of the game, including a new public server team balancer, weapon tweaks and the like.
Staff Writer for CinemaBlend.
Your Daily Blend of Entertainment News
Thank you for signing up to CinemaBlend. You will receive a verification email shortly.
There was a problem. Please refresh the page and try again.