Instructional Video Teaches You How To Make 'Yarny' From The Upcoming Unravel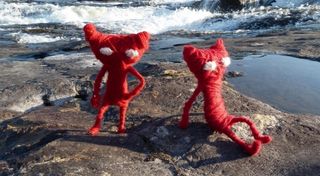 Creative director and creator of Unravel, Martin Sahlin, teaches gamers how to make their own version of the Yarny protagonist from the upcoming platformer, Unravel. The video is an instructional walkthrough that isn't too long or complicated and only features wire, yarn, scissors and a paperclip.
AllGamesBeta posted up the three minute video where Sahlin calmly walks viewers through the process of creating their own version of Yarny.
Things start off with some wire being cut into a torso and two legs. From there you'll need to wrap up some wire around the upper part of the torso to create the arms. If you want to avoid the hands from being prickly, it might be best to fold in the edges to create a more rounded tip so that you don't get poked accidentally when picking up, playing with, or handling your makeshift Yarny.
From there, you'll need to wrap up the wire around the top of the torso to shape a head for Yarny. Sahlin suggests adding some three dimensional depth to the structure of Yarny's head so the yarn can properly wrap around the head and have some depth.
After that you simply have to wrap up the body, use a paperclip to tie up the loose end, and apply the eyes using white yarn and a paperclip for each eye. Once you do that, you're all done.
There's a slightly more in-depth tutorial on how to make your own version of Yarny on the official Unravel game website, where Sahlin does a step by step instructional guide for bringing your own yarn hero to life.
This little video comes ahead of the game's launch next month for home consoles and PC. According to Windows Central Electronic Arts has a 10 hour trial that they will make available for the game on the Xbox One and PC via the EA Access and Origin Access, respectively. Since Sony declined to allow the EA Access service on the PS4 claiming that it didn't offer any value for their users, you won't be able to play-test EA games on PS4 via trials or get discounts using the EA Access service.
The trial for Unravel will be made available on February 4, just ahead of its February 9 release date. It's one of many games that EA has lined up for release this year, along with Plants vs Zombies: Garden Warfare 2, which has a beta that is currently happening at the moment, and the highly anticipated Mass Effect: Andromeda, which is set for release sometime in the fall.
As for Unravel... the game really took a lot of people by surprise when it made its debut at E3 back in 2015 because it didn't seem like something EA would get behind. It has some of the charm of LittleBigPlanet with the philosophical overtones of Journey. It hasn't been widely promoted like some of EA's other titles, but it could end up being a moderate sleeper hit when it launches in early February. You can always use the makeshift yarn doll as a nice hold-me-over as you wait for the game to release.
Your Daily Blend of Entertainment News
Staff Writer at CinemaBlend.