Kingdoms of Amalur, Hotline Miami, Shadow Of the Colossus, More Hit PS Plus In October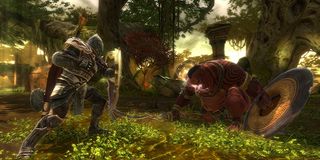 It's a big month for PlayStation Plus in October with a set of games from a wide variety of genres hitting the lineup, including bullet hell, epic RPG, a lil' poker and some good old fashioned ultra violence.
Not every month of a promotion like PlayStation Plus can be overflowing with winners and, in Sept., more than a few subscribers seemed to be less-than-thrilled with the selection. They'll have little to complain about this month, however, as all five games set to be rotated into the Instant Game Collection are absolute hits. That's a matter of opinion, sure, but it's one I stick by.
The announcement went live yesterday evening with Sony Sr. Community Specialist Kristine Steimer providing all of the details.
We may as well start with the month's biggest hitter on the home console front, Kingdoms of Amalur: Reckoning. While many of you may remember Amalur as that unexpectedly awesome original IP from the doomed 38 Studios, quite a few gamers let this one fly under the radar since it was from an unproven developer and set in a world nobody had ever heard from before. That's exactly what made Amalur intriguing to me but, now that 38 Studios has gone under, there's a fair chance we'll never see another game in the series again. The property is set to be auctioned off sometime in November, but if an Amalur 2 ever arrives, it likely won't bear the same pedigree as the original, i.e. a story from legendary fantasy author R.A. Salvatore and visuals from comic book mastermind Todd McFarlane.
You'll want to clear off plenty of hard drive space for this one, as Amalur clocks in at just under 14 GB to donwload. For that space, you'll be getting an epic RPG adventure set in an interesting new world with fast and fun action combat.
If you prefer your adventures to be a bit more somber, then perhaps you'll enjoy a gratis copy of the HD version of Shadow of the Colossus instead. This game was offered on the cheap a few months back and, in September, it's spiritual successor, Ico, was also up for grabs. Now you can dive into what many consider to be one of the best games of all time as part of October's Instant Game Collection.
Wrapping up the main PS3 offerings for the month is Poker Night 2, the cheeky card game featuring an unlikely cast of characters including Claptrap from Borderlands, Ash from Army of Darkness, Sam from Sam and Max and Brock from The Venture Bros. If that wasn't crazy enough, your dealer is the slightly homicidal robot, GLaDOS of Portal fame.
Bridging the home and portable console this week is Hotline Miami, the uuber violent action puzzle game with an old school vibe, available for both the PS3 and PlayStation Vita.
The Vita's offerings will be rounded out with Sine Mora, the old school bullet hell shooter with some new school twists that reminds everyone how awesome the underrepresented genre can truly be.
Staff Writer for CinemaBlend.
Your Daily Blend of Entertainment News
Thank you for signing up to CinemaBlend. You will receive a verification email shortly.
There was a problem. Please refresh the page and try again.