Layton Brothers Mystery Room Now Solving Cases on iOS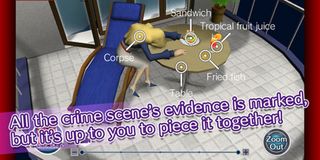 Professor Layton and Ni No Kuni studio Level-5 has released a new adventure game on iOS devices today. Layton Brothers: Mystery Room is a spin-off of the Professor Layton series that stars Inspector Alfendi Layton.
Alfendi Layton, son of the Professor, is a detective at Scotland Yard. Along with Detective Constable Lucy Baker, he must solve a series of strange and twisted cases. The player will examine crime scenes to find evidence and then compare it against the case files. They must also question witnesses and uncover their lies or secrets. Finally, once they discover the culprit, they must expose them in a final confrontation. The premise reminds me a bit of Ace Attorney, so they've got my attention.
"We are excited to bring Layton Brothers: Mystery Room to iOS in North America and Europe, where so many have already grown to love the puzzle-solving fun and whimsical adventure that the Professor Layton brand is known for," said Akihiro Hino, President and CEO of LEVEL-5. "This is a brand new title that puts players in the middle of fascinating crime scenes that can be compared to an interactive mystery novella, creating the same sense of page-turning urgency that we hope will compel players to continue the story beyond the initial two case files that are being offered for free."
The game will ship with nine cases in total. The first two will be free to download with the base app. In the first case, a murdered woman is found clutching a sandwich. In the second, a man is killed in his apartment but the murder weapon can't be found. You can purchase the game's other cases in two bundles priced at $2.99 and $1.99. By playing through all the cases, you'll uncover a secret about Alfendi Layton himself.
Mystery Room has taken a long time to arrive in gamers' hands. The game was first announced as a non-Layton title back in 2009. It was supposed to be released on DS initially but was re-announced as Layton Brothers: Mystery Room for iOS in 2011. The Japanese launch occurred back in September of last year.
Image 1 of 5
Image 2 of 5
Image 3 of 5
Image 4 of 5
Image 5 of 5
Staff Writer at CinemaBlend.
Your Daily Blend of Entertainment News
Thank you for signing up to CinemaBlend. You will receive a verification email shortly.
There was a problem. Please refresh the page and try again.