Lego Dimensions Is Gearing Up For A Major Reveal This Week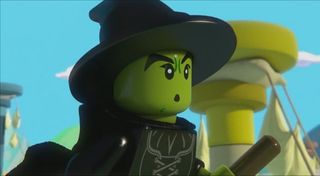 The Lego Group and Traveller's Tales Lego Dimensions has been a real breakaway hit with kids and adults alike due to combining so many different movie, game and pop-culture characters, locations and media all into one game package. Well, the next major reveal is happening this Thursday, on June 9th.
Game Informer did some sleuthing around the net to find a variety of different instances where gamers appear to have stumbled upon who the next big characters might be to join the Lego Dimensions cast of characters.
According to the article, Traveller's Tales teased a couple of new characters for the toys-to-life Lego game, including Gizmo from the movie series Gremlins. The first teaser went live featuring the Wicked Witch exclaiming "Oh no, water!" before we hear a splash. The clip can be viewed below from the official Lego Dimensions Twitter account.
The Wicked Witch and the water gag is a misdirection. The tease is actually for Gizmo, whose ear briefly appears in the clip at the end of the Witch's broom. Game Informer noted that another extended teaser showed the little gremlin on the back of the Witch's broom.
The second teaser featuring Gizmo from Gremlins in Lego Dimensions was apparently pulled by Warner Bros.
Even though Warner Bros., was quick to get Gizmo out of the clip, the internet never forgets. Game Informer pointed out that a couple of quick-clicking Twitter users managed to snap photos of the clip featuring Gizmo before it was scrubbed from the internet, clearly showing that he was riding on the back of the Witch's broom.
That wasn't the only tease for Lego Dimensions, though. The second tease featured a character saying "Only I can live forever", along with "I am a true riddle". The article notes that these phrases are linked to the Harry Potter villain, Voldemort. There's a quick clip of the tease that was also posted up by Warner Bros., and Traveller's Tales. Check it out below.
So how did people figure out that it was Voldemort? Well, he's apparently Tom Riddle, and there's a clip of him saying "Only I can live forever". I'm sure fans of the Harry Potter franchise quickly picked up on these things.
Gamers will only have to wait until tomorrow to find out more about these new characters and the new content arriving in Lego Dimensions. It's some noteworthy news leading into the E3 weekend, where things will begin to accelerate and tons of big announcements are expected to take place this upcoming Sunday. I'm sure Warner Bros., wanted to get the Lego Dimensions announcements out this week to avoid being buried during the blockbuster E3 moments set to take place next week.
Your Daily Blend of Entertainment News
Staff Writer at CinemaBlend.