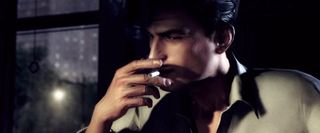 A new report suggests 2K Czech is developing another game in their open-world Mafia series. Mafia 3 will allegedly be released on the next generation of consoles.
The report from Eurogamer.cz says that M3 was originally supposed to be a launch title for PlayStation 4 and the next Xbox. A later release is more likely now, though. The studio laid off 40 employees last year and is still in the process of rebuilding their staff.
The first two Mafia games were set in the mid-twentieth century. Players take on the role of Average Joes recruited by the Mafia. They rise through the ranks of their crime families by completing a variety of unsavory missions. It's like Grand Theft Auto with a straight face.
In my review of Mafia II, I praised the ambitious storyline of the game and the beautiful open-world. The game fell short of its potential because of the lack of compelling side content for the open-world, awkward save system and poor driving mechanics. There was enough raw potential there to be excited for a third Mafia game, though. Perhaps they'll consult fellow 2K subsidiary Rockstar Games for some advice on sand-box gaming.
Mafia took place in the 1930's, while Mafia 2 spanned the 1940's and early 1950's. I assume that Mafia 3 would focus on the late 1950's or 60's. I don't know how much of a difference that would make, gameplay wise, but the licensed music would be a bit better.
Your Daily Blend of Entertainment News
Staff Writer at CinemaBlend.
Your Daily Blend of Entertainment News
Thank you for signing up to CinemaBlend. You will receive a verification email shortly.
There was a problem. Please refresh the page and try again.