Mass Effect 4 Is Mass Effect Andromeda, Watch The First Trailer Now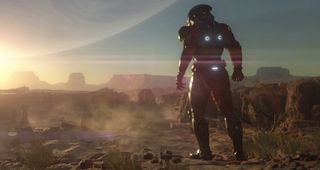 BioWare has officially announced the fourth entry in the Mass Effect series at EA's E3 press conference. Mass Effect Andromeda takes the series to a brand-new set of locations in the game universe.
In the cinematic trailer, we see a captain flipping through images of alien worlds on his galaxy map. We see a volcanic world with fiery tornadoes, a jungle planet inhabited by giant flying beasts, and a barren desert world. The captain picks the desert and plots a course there.
The scene then cuts to the desert world, where the new Mako is tearing across the barren landscape. Then we see our hero, dressed in N7 armor, use his jetpack to climb a ridge. He and his companions charge a group of enemies obscured by the whipping sands. The trailer closes with the hero using his jetpack to land a leaping punch on one of this foes.
"While we aren't ready to go into too many details just yet, as you saw in the trailer and can tell by the name, this game is very much a new adventure, taking place far away from and long after the events of the original trilogy," said BioWare on their official blog. "You will play a human, male or female, though that's actually not the character you saw in the trailer (more on that later). You'll be exploring an all-new galaxy, Andromeda, and piloting the new and improved Mako you saw. And through it all, you will have a new team of adventurers to work with, learn from, fight alongside of, and fall in love with."
It's still unclear when Andromeda will be set in the series' timeline. The fact that the game is set so far away from the initial trilogy means that it shouldn't overlap too much with the existing storyline, though. It effectively gives BioWare a blank slate to work with.
They added that the engine was built with Frostbite. Frostbite is the game engine for Mass Effect Andromeda. It was previously seen in Dragon Age: Inquisition and recent Battlefield games as well.
"We are thrilled by what we've already been able to achieve in bringing Mass Effect to Frostbite and by putting our entire focus on PC and current gen consoles. With the time remaining in development, we're excited about the possibility to push things even more."
So there you have it: the game's coming to PS4, Xbox One and PC. Unlike Inquisition, it seems Mass Effect Andomeda won't be released on PS3 and Xbox 360.
Unfortunately, Mass Effect Andromeda won't be out anytime soon. BioWare says the game will be debuting in Holiday 2016.
Staff Writer at CinemaBlend.
Your Daily Blend of Entertainment News
Thank you for signing up to CinemaBlend. You will receive a verification email shortly.
There was a problem. Please refresh the page and try again.