Mighty No. 9 Gameplay Video Shows Off Two-Player Modes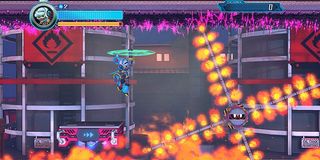 Mighty No. 9 is nearly ready to launch and, to celebrate, the folks at Deep Silver have released a brand new trailer that shows off some of the game's various modes, including the various ways two players can team up or duke it out.
With Mighty No. 9 finally set to launch on Feb. 9, Deep Silver Global Brand Manager David Waters recently dropped by the PlayStation Blog to show off the game's latest trailer. Simply called "Gameplay Trailer 2," the following footage gives a gander at our blue-suited hero, Beck, unleashing a bunch of devastating new moves; all of which help him platform or dispatch enemies more easily. You'll also catch a glimpse of the game's various modes, including the highly-anticipated two-player modes that let players compete or work together to bring down their robot enemies.
Along with the standard game that sees Beck traveling across the city to pulverize robot bosses to absorb their abilities and become stronger, Mighty No. 9 will feature a Boss Rush mode that lets you tackle these ultimate baddies one after another in the ultimate test of endurance and skill. There's also a Challenge Mode that lets you face levels specifically designed to push your platforming abilities to their limit, as well as a Maniac Mode that asks the player to progress as far as possible with only a single hit point keeping them from exploding.
Finally, there are those two-player modes we were just talking about, which Waters said will give players a chance to enjoy Mighty No. 9 with a fellow player.
The Mighty No. 9 team also took this opportunity to tout a couple of promotions. For starters, pre-ordering the game will net you the exclusive "Retro Hero" DLC, which makes Beck look like he was plucked out of a game from the 8-bit era. There's also a special cross-buy promotion for PlayStation consoles, meaning you can buy the game for either the PS4, PS3 or Vita and then download it on the other two platforms at no extra charge.
Mighty No. 9 has had a pretty rocky road leading to its Feb. 9 launch, but it appears as though all of the unfortunate hurdles and delays are now a thing of the past. So the real question is: Are you still excited to pick up this game during a crowded first quarter 2016?
Your Daily Blend of Entertainment News
Staff Writer for CinemaBlend.
Your Daily Blend of Entertainment News
Thank you for signing up to CinemaBlend. You will receive a verification email shortly.
There was a problem. Please refresh the page and try again.