Mighty No. 9 Has Been Delayed Again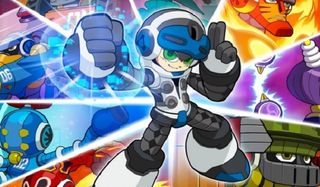 We've got some disappointing news for folks who have been eagerly anticipating the February launch of Mighty No. 9: Keiji Inafune's spiritual successor to the Mega Man series has once again been delayed.
Inafune made the announcement official through the Mighty No. 9 Kickstarter page, saying that the development team has "no excuses for disappointing" fans once again.
Mighty No. 9 has had a long, troubled history since it turned into a Kickstarter darling well over a year ago. The game raised just shy of $4 million, with more than 67,000 backers throwing their support into the project. With an initial pledge goal of $900,000, it certainly hasn't been financials that's held the project up.
Originally set to launch in August of 2015, the first major kink in development came with an initial delay. Delays can be forgiven, but it was the timing of this particular delay that ruffled more than a few features. Inafune and his studio, Comcept, were in the middle of another crowdfunding campaign that wasn't quite taking off. As soon as that campaign concluded, the studio announced that, by the way, Mighty No. 9 has been delayed. That announcement came a mere two weeks before the game was set to launch.
Following a second delay, Inafune promised backers that there would be no further problems keeping the game from making a Feb. 9 launch. He claimed that the only remaining work was basically polish, and that Mighty No. 9 was nearly ready to roll.
Unfortunately, that does not appear to be the case, as today's Kickstarter update makes it clear that there are still issues keeping the game from launching. Inafune says that the new problems revolve around porting, network issues and rewriting code for Unreal Engine 3, which is no longer supported.
The letter from Inafune goes on to explain the issues in more detail and, yes, it all sounds very sincere, but we're not sure how the gaming community is going to handle yet another delay, especially considering the fact that a Feb. 9 launch was "guaranteed."
As for when a new release date might be, Inafune decided not to offer anything concrete this time around.
In other words, Mighty No. 9 might be arriving a full year after it was initially expected to hit the market. That has us wondering about the severity of the issues the team is facing. Inafune claims that they waited this long to make the delay announcement because they've been working up to "the last minute" to try to get the fixes completed in time for Feb. 9. If the team is now quoting Spring 2016 as a realistic window for launch, it sounds like the issues are a bit more serious than the team is letting on.
Staff Writer for CinemaBlend.
Your Daily Blend of Entertainment News
Thank you for signing up to CinemaBlend. You will receive a verification email shortly.
There was a problem. Please refresh the page and try again.