Minecraft Adds New Skins And Achievements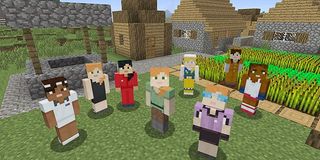 The ever-expanding world of Minecraft is set to grow just a bit more soon, with Mojang announcing the impending launch of some new player skins, new music and brand new Achievements for those of you gaming on the Xbox 360 and Xbox One.
For starters, players will soon be able to begin their adventure in Minecraft with a female avatar, according to a recent announcement over on the Mojang blog. This is one of those features that has been oddly missing from the game but, thanks to the upcoming update, will finally be corrected.
In the past, the only option for a starting character has been the blue-shirted Steve.
"But jolly old Steve doesn't really represent the diversity of our playerbase," reads the announcement. "For that reason, we're giving all players opportunity to play as an Alex skin instead. She brings thinner arms, redder hair and a ponytail."
Minecraft isn't exactly lacking for a wide variety of player skins at this point but, for folks just starting out in the game, it was a little odd that you could only choose a male avatar from the get-go. With the introduction of Alex, pretty much everyone can now feel like they have an extremely blocky version of themselves to enter the world of Minecraft with. Look for Alex as a free in-game update for all platforms this Wednesday.
Along with the Alex Skin, PlayStation fans will also be able to deck out their Minecraft avatar with one of the most famous television families of all time this week. Enter: The Simpsons. The Simpsons skin pack will boast the titular yellow-tinted family, along with other popular characters from the show including Principal Skinner, Groundskeeper Willie and the like. Already available on Microsoft consoles, this will be the first time The Simpsons have made the jump to the PlayStation family of machines.
But don't feel left out, Xbox crowd, because you're getting new Chivos this week, too. The Xbox One edition of Minecraft launched with more Achievements than the Xbox 360 version of the game. Mojang is correcting that inequality this week, adding in 30 new achievements for the 360 version of the game. That'll boost you up to a round 1,000 gamerscore, all told.
Finally, there's also a new music update for the 360 version of Minecraft.
"We're also bringing a bundle of new music tracks," reads the update. "After this update, there'll be more of C418's plinky plonky goodness in-game. Nice."
So, there you have it; a nice little mix of content for all of you folks building or destroying worlds in Minecraft. Like we said, there's been a lot of skin packs made available over the years, but there's still plenty of properties out there that haven't been introduced into the angular world of Minecraft just yet. Who would you like to see in a future update? Let us know in the comments section below.
Your Daily Blend of Entertainment News
Staff Writer for CinemaBlend.
Your Daily Blend of Entertainment News
Thank you for signing up to CinemaBlend. You will receive a verification email shortly.
There was a problem. Please refresh the page and try again.