New Overwatch Short Film Shows Off Battling Between Hanzo And Genji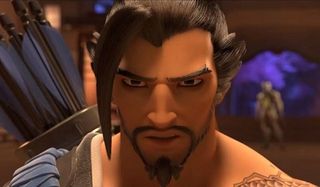 Blizzard sure knows how to promote its upcoming games. The latest video geared at pumping fans up for the launch of Overwatch focuses on the characters Hanzo and Genji. It's called "Dragons" and it's a pretty entertaining little action flick.
So, what happens when a ninja and a samurai square off in battle? Keep in mind that these aren't your everyday warriors we're talking about here, but the basically superhuman characters Hanzo and Genji from the upcoming class-based shooter, Overwatch.
Along with telling part of Overwatch's back story, "Dragons" is used as a fantastic excuse to show off the abilities each of these characters possess. From throwing stars to arrows break apart and bounce off of walls, we get to see what types of sweet moves we'll be able to unleash once Overwatch finally arrives next Tuesday, May 24.
From the video, Hanzo seems like what you would get if Soulcalibur's Mitsurugi got really good with a bow. Genji, on the other hand, looks like a fast and furious mix between Ninja from the Metal Gear series and Shinobi.
Some of your typical action movie antics are on display here, including slow-motion dodging, slicing an arrow in half mid-flight and loads of melee fisticuffs. Hanzo uses his bow like a sword while Genji relies on a couple blades he always has at the ready. It's clear that Hanzo is going to be best suited to ranged play while Genji is made to sneak up close and punish foes when they're within arm's reach.
The best part of the video comes near the end when we get to see the animated short's namesake come into play. Hanzo loads an arrow and powers his shot with the force of two blue dragons. Genji, in return, channels a green dragon through his sword and returns fire. Like the rest of this video, the animations are really well done. As for who comes out victorious, you'll just have to sit tight and find out for yourself.
If you're not up to date on all of these Overwatch videos yet, then you'll want to drop by the game's official Youtube page. They give you a way to find out a bit more about the game's characters, world and the story leading into the game, the remaining details of which you'll be able to discover next week when Overwatch finally arrives.
Since Overwatch had an extremely popular beta, we're willing to bet quite a few of our readers got in some good hours with the game. We'd be happy to hear your thoughts on that experience in the comments section below.
Your Daily Blend of Entertainment News
Staff Writer for CinemaBlend.
Your Daily Blend of Entertainment News
Thank you for signing up to CinemaBlend. You will receive a verification email shortly.
There was a problem. Please refresh the page and try again.