PS4 Multiplayer Will Be Free For A Limited Time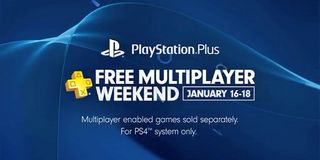 For those of you who haven't taken your PlayStation 4 online just yet and find yourself wondering what all the fuss is about when it comes to multiplayer gaming, this weekend will afford you the opportunity to tackle a no-risk trial, as PSN opens up to the masses for three short days.
While Microsoft began charging gamers for online access last generation, Sony didn't catch on to the trend until the launch of the PlayStation 4. Until that time, online gaming on PlayStation consoles was gratis, and some would argue that that led to a less reliable service. Then again, who knows, right? Anyway, now you need to subscribe to PlayStation Plus in order to play your PS4 games online, meaning you're missing out on quite a bit of content if you don't feel like forking over an additional $50 a year for that access.
While all PlayStation 4 consoles come with a trial subscription to PlayStation Plus, I guess some people still haven't given those online services a test drive. As such, it looks like Sony will be opening up online gaming for all comers this weekend, giving solo commandos a chance to see what they've been missing out on.
This news comes to us courtesy of a PlayStation 4 reddit thread in which a promotional image announces free multiplayer on the console from Jan. 16-18. No times are given for a start or end of this event, but there's a pretty good chance that Sony will make an official announcement at some point via the PlayStation Blog in the next few days.
Nowadays, quite a few games are hitting the market that are either heavily slanted toward online cooperative/competitive modes or strictly played online. While you can still find a decent number of games focused on single player action, even those games typically include some sort of online mechanic. In Middle-earth: Shadow of Mordor, for instance, a captain that kills one of my friends might pop up on my map as a vendetta mission. It's small, but it's a nifty way of enhancing an otherwise solo experience by bringing online into the equation.
Then there are games like Destiny, anything from the Call of Duty series or Battlefield. They can all be played offline, but we all know that the heart of those games beats within the online community.
If you still haven't adopted Plus, this weekend's free access should give you a nice chance to take those games' online modes for a spin.
Staff Writer for CinemaBlend.
Your Daily Blend of Entertainment News
Thank you for signing up to CinemaBlend. You will receive a verification email shortly.
There was a problem. Please refresh the page and try again.