PSN Gets Transistor, Wolfenstein This Week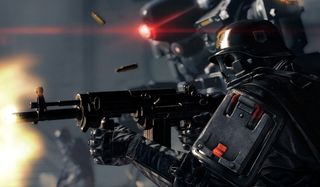 It's yet another jam-packed week on the PlayStation Network this week as new games arrive for the PlayStation Vita, PlayStation 3 and PlayStation 4, ranging from a brand new AAA first-person shooter and a highly anticipated indie game, to a slew of Japanese imports for the PSone and a beloved PlayStation 2 classic from the Shin Megami Tensei series.
The entire Sony family of consoles is present and accounted for this week with an absolute blowout of games heading into the summer months. Kicking things off is Supergiant Games' latest offering, the musically-charged RPG adventure game, Transistor, featuring a red-haired heroine with a massive sword and more than enough special abilities to turn it into a weapon of absolute destruction.
"Face enemies known as The Process and work to uncover the mystery behind Red's fate, and what evils have been cast against the sprawling city of Cloudbank," reads the PS Blog announcement from Ryan Clements.
While Transistor is a PS4 exclusive, this week's newest shooter is coming out to consoles both new and old as Wolfenstein: The New Order arrives on the PlayStation 3 and PlayStation 4. Taking place in an alternate 1960, Nazi forces are winning World War II thanks to mysterious new technology they should not have in their possession. Your job is to turn their greatest weapons against them and take out a few hundred baddies along the way.
Also arriving this week on the PlayStation 3 are a new collection of PSone imports, including Tokyo 23-Ku Seifuku Wars, Sarara's Little Shop, Neo Planet, Heroine Dream 2 and Dragon Beat Legend of Pinball. These games are presented in their native Japanese language, so be warned going in that you might need a FAQ to get the ball rolling.
Also hitting the network this week is the PS2 classic, Shin Megami Tensei: Digital Devil Saga. A beloved RPG from two generations ago, this highly collectable game now becomes much easier to get your hands on as it releases on the PS3 via digital distribution. It'll be joined by a couple of other new PlayStation 3 games, including SRPG Mugen Souls Z and the side-scrolling shooter classic with a fresh coat of paint, R-Type Dimensions.
Finally, hitting the PlayStation 4 and Vita this week as a digital cross-buy title is Sparkle 2, the gem busting game that sees players racing against the clock to put a halt to a steadily approaching strand of multi-colored jewels.
Well, that'll about do it for the week. Look for everything listed above, along with the regular dose of demos, DLC and the like, to hit the PlayStation family of consoles starting Tuesday.
Staff Writer for CinemaBlend.