Path of Exile Played By 4 Million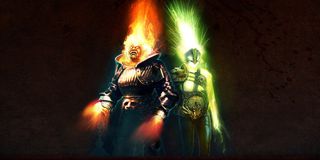 Free-to-play action RPG Path of Exile has attracted more than its fair share of interested players. Developer Grinding Gear Games said that they're lured in over 4 million gamers since the start of open beta in January 2013.
Path of Exile is a gritty, medieval action RPG. Players must explore the caves, swamps and ruins of Wraeclast and defeat scores of enemies that they encounter along the way. The loot and levels are randomly generated to increase replayability.
As players progress, they can customize their character with a massive passive skill tree. Active skills are granted by gems that you socket in your armor. By linking gems together, you can modify your abilities in significant ways. For example, you can make your Fire Arrows split into two to make it easier to mow down groups of enemies.
PoE officially launched to the public on October 23rd. Over 1.5 million unique players have joined since then. Grinding Gear says that the game attracts about 250,000 users on a daily basis.
It's not hard to see how the game has attracted so many players. It's had a year to build up positive word-of-mouth. What's more, it's free-to-play and available on Steam, so players can dive right into the full game with a short download. Steam had it on their front page for several weeks as well.
The game is supported through microtransactions, though they're not essential for beating the game. The purchases are limited to services like expanded storage or more characters slots and cosmetic options like new spell effects or pets. I played through the whole campaign without paying a cent. I imagine you could get through the higher difficulties without a purchase, too.
PoE's beta was funded through the sale of Supporter Packs. Grinding Gears is now offering "Release Supporter Packs" to facilitate the creation of new content for the game, such as new Acts for the campaign. These packs range from the $50 Survivor Package to the $900 Conqueror Pack. Even paying $900 doesn't grant you any additional strength within the game, though; instead, you're getting aesthetic items like a special town portal effect and a new portrait frame. You can find a run-down of the Supporter Packs' perks here.
Image 1 of 4
Image 2 of 4
Image 3 of 4
Image 4 of 4
Staff Writer at CinemaBlend.
Your Daily Blend of Entertainment News
Thank you for signing up to CinemaBlend. You will receive a verification email shortly.
There was a problem. Please refresh the page and try again.