Planet Explorers Launches On Steam Early Access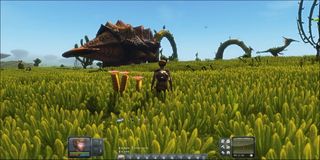 I've always liked the game Planet Explorers, though I admit I've never actually played the game. Still, the idea that you're on this beautiful planet with your own characters, terraforming and flying around, and making friends and enemies out of giant beasts that look like they crawled out of the left over part of James Cameron's space adventures is a pretty cool concept. If that sounds remotely fun, the cool part about it is that you don't even have to wait for the game to arrive because it's already here.
Pathea Games' Planet Explorers has launched on Steam for $24.99. The game is still in the Early Access program on Steam but it looks like it's worth a million bucks... well, no, not really. It looks like it was built on a million bucks, how about that?
One of the things I thought was pretty awesome about Planet Explorers is the ability to build your own stuff. Heck, someone made a cache of slick looking guns. Reddit user BusDriveJoe got home from driving a bus and put together some of the sexy looking weapons you see below.
Sweet, right?
That alone almost caused me to head on over to Steam and pick up a digital copy of the game right now. If you like gun porn, well, it almost doesn't get any better than that... except for maybe the FA:S 2.0 mod for Garry's Mod.
Or does it...?
Oh snap, he made a giant chocolate pretzel and used it to as a ramp. That's some sick creativity right there.
Just two minutes in a Mad Max gyrocopter is made with Rambo-equivalent firepower. It's like... it's like... creativity porn. I didn't even think that was possible, yet my eyes don't deceive me, it's exactly what happened. I'm sure real porn is jealous that people are going to start spending so much of their time sweating, panting and making a mess in their pants over a game that actually has people using their brains for more than just fixating their eyes on images and videos that drive up your monthly bandwidth and cause your hard drive to sputter and stall because it's running out of temporary internet space.
I can't say whether or not Planet Explorers is worth the $24.99 entry price. It's an executive decision you'll have to make on your own, or by scouring through the minefield that is the Steam forums. You can learn more about Planet Explorers by paying a visit to the official website.
Your Daily Blend of Entertainment News
Staff Writer at CinemaBlend.