PlanetSide 2 PS4 Beta Coming In January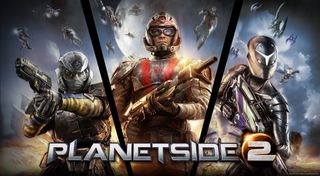 Fans of the free-to-play shooter from Sony Online Entertainment can finally take a sigh of relief after it's been revealed that details on the PlayStation 4 beta will be coming soon. How soon? How about January soon?
Game Informer spotted tweets from the president of Sony Online Entertainment, John Smedley, as he addressed the time-frame in which gamers could reasonably expect to see Planetside 2 appear on the PS4.
I'm not sure if he means that "it goes up" on the servers for another certification review or if it goes up for players to access on the 13th or the 20th of January.
The wording makes it a little difficult to interpret, but if it's already approved through the first pass, it's reasonable to expect that the game could be going live for players to dabble in sometime during the week of January 13th or the week ending on January 20th.
Planetside 2 has been aiming to land on the PS4 for quite some time now. The game was originally confirmed for the PS4 back in June of 2013. Many expected that it would be a launch title for Sony's fourth generation home consoles. However, Planetside 2 missed the launch window. Quite naturally lists began appearing showing more of the PS4's line-up and Planetside 2 once again was showcased as another 2014 title. However, after revealing that the game would be aiming for 1080p, Planetside 2 faded out of the spotlight for a bit.
Smedley and crew did try to affirm that they wanted a beta out for the game before 2014 came to an end, but it doesn't look like that's happening.
Planetside 2 is a first-person MMO shooter. The game sees thousands of players doing battle across sprawling environments to take control of an embattled planet. The highlight of the game is how many players can be on screen at one time. Players can literally mobilize armies and do battle against another group of players.
The game prides itself on the spacious environments and the ability to take control of various vehicles for a multi-front attack. If you enjoy sniping, you can take to the hills and stay out of the big battles. If you're an ace-pilot you can use one of the various aerial vehicles to provide air support. If you like blowing things up there are tanks and transport carriers to commandeer. And quite naturally there are character classes specifically built to blow each of the vehicles into tiny pieces.
You can play Planetside 2 right now, for free, on PC. The game is scheduled to arrive – as mentioned above – for the PS4 sometime in January. You best make room on your hard drive if you're planning on getting Sony Online Entertainment's MMOFPS.
Staff Writer at CinemaBlend.
Your Daily Blend of Entertainment News
Thank you for signing up to CinemaBlend. You will receive a verification email shortly.
There was a problem. Please refresh the page and try again.