PlanetSide 2 Still Gunning For PS4 Beta In 2014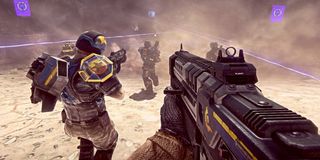 The PlayStation 4 already has a decent stable of free-to-play games on offer, but one of the most highly anticipated of the lot, PlanetSide 2, is still nowhere to be seen. According to recent reports, however, a beta is still planned for some time before the calendar flips into 2015.
Originally expected as a launch window title for the PlayStaiton 4 in the US, PlanetSide 2 is thus far a no show on Sony's latest home console. The game originally launched on the PC and has been in development for the PS4 for more than a year at this point. If you happened to be at E3 this year, a playable version of the game was available on the show floor and it ran smoothly. I'm not going to begrudge a developer for taking their time, however. Whether a game is free or not, I'd prefer it to hit the ground running whenever it finally launches.
While PlanetSide 2 may have slipped off of many gamers' radars, however, Eurogamer is reporting that a more widely played version should be just around the corner, as a beta is still planned to launch at some point this year. Of course, that doesn't really specify exactly when the beta will be available or playable for PS4 gamers. Seeing as how there are only a handful of weeks left in said year, here's hoping we'll be playing the massive battle game sometime very, very soon.
For those unfamiliar with PlanetSide 2, it's a popular online first-person shooter that takes place on massive maps. Think Battlefield, only bigger. Why does it need to be so big? Because literally hundreds of players are competing on the same map at the same time. Most firefights take place in key strategic locations, but it's not uncommon to come across an enemy soldier while running, skiing or driving across the huge landscapes.
A persistent warzone, the competition rages on while you're away from combat and is always fast and fierce when you're ready to return. A free-to-play game, players can get by just fine without ever dropping a dime into PlanetSide 2 but, if you're willing to part with a few dollars, you can deck yourself out with more specialized gear more quickly.
When the PS4 was first announced, the folks at Sony made it clear that free-to-play games would be welcome on the new platform. Currently, games like DC Universe Online, Blacklight: Retribution, the third-person action title, Warframe, and the WWII aerial combat simulator, War Thunder already have massive audiences on the home console.
According to Eurogamer's report, Creative Director Matt Higby said that more information on the PlanetSide 2 beta will be announced during December's PlayStation Experience event in Los Vegas.
Higby goes on to explain that the game's slow road to launch has been in order to fine-tune the experience in order to have PlanetSide 2 "feel like a great PS4 native console game. Not just a PC port."
Staff Writer for CinemaBlend.