The Prosthetics From Deus Ex: Mankind Divided Are Getting Turned Into Reality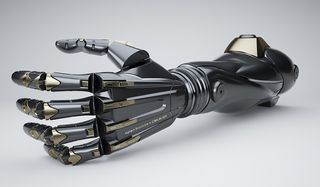 It looks like one of the coolest things on display at E3 next week might not be a game, as Eidos Montreal and Open Bionics announce a partnership to bring bionic arms to market themed after the Deus Ex series of games. Models are planned for display at next week's conference in Los Angeles, as well as upcoming events like Gamescon.
According to a recent report from Gamespot, some shiny new prosthetic limbs are scheduled to be on the market next year, giving folks who have suffered the loss of an arm the opportunity to look like a video game character with some rad-as-hell and apparently very affordable new bionics.
This isn't the first time we've seen a prosthetic from pop culture pop into the real world, as a fan of Metal Gear Solid V was recently gifted a bionic arm pulled straight from Snake's most recent adventure. In the realm of movies, Robert Downey Jr. this past year delivered a prosthetic arm themed after Iron-Man to a youngster in need.
We think it's pretty fantastic to see collaborations like this becoming more common, and Eidos Montreal's partnership with Open Bionics certainly looks to be turning out some fantastic results. You can see a brief rundown of the development process in the above video, where the team explains that the bionic arms are being designed with blueprints that will be royalty free, so absolutely anyone will have access to them.
Otherwise, Open Bionics' Deus Ex-inspired limbs will hit the market in 2017. There are two models currently planned, including the Titan Arm and the Adam Arm, both inspired by Mankind Divided protagonist Adam Jensen. If you want to be on the cutting edge of technology and look like a visitor from a slick, cybernetic future, these are the way to go. They'll be made in sizes for children and adults, with designs crafted for both men and women.
Since Deus Ex: Mankind Divided will appear at E3 next week, Eidos plans to have models available for viewing on the showroom floor.
There's actually a third member of this collaboration, and that's Razer. They'll be utilizing the Stargazer webcam, along with motion tracking technology, in order to let folks see what it would be like to wear one of these Deus Ex arms in the virtual space. Given this particular setup, we're guessing that the program will allow the user to behave like normal in front of Razer's webcam with one of the Deus Ex arms superimposed onto an existing or prosthetic limb.
If, however, you'd rather just play Mankind Divided and see these kinds of bionics in action within the game world, then you'll want to mark Aug. 23 on your calendar for PS4, Xbox One and PC.
Staff Writer for CinemaBlend.
Your Daily Blend of Entertainment News
Thank you for signing up to CinemaBlend. You will receive a verification email shortly.
There was a problem. Please refresh the page and try again.