Sims 3 High End Loft Stuff Pack Impressions: Daisy Gets A Makeover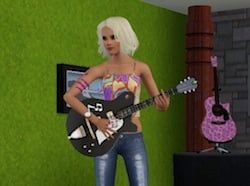 I've been playing The Sims since it's release ten years ago and this is the first "Stuff Pack" I've ever had the pleasure of installing into my game. Given the cost of the various expansion packs, I was always reluctant to shell out more money on "things" for my Sims. And as Sims 3 has a very easy-to-use object editor, allowing players to customize the cosmetic appearance of most of the items and clothing in the game, added to the extensive collection of furniture, clothing, decorations, home improvement objects and hairstyles available for purchase and download on the Sims website, I wondered what this Stuff Pack would have to offer at the price of $20.
I will say this. When it comes to The Sims, I've always been a fan of the loft design for houses. I find the open floor plans and funky designs make for an easier playing experience, as opposed to smaller, more cramped rooms that often result in Sims getting in each others way or having to wander from room to room to get to what they need. So the High End Loft concept appealed to me off the bat.
I decided to approach this "review" of the pack as I did with my First Impressions Review of the first Sims 3 expansion pack, Word Adventures. While it was Celia who trekked across the Sims versions of China, Egypt and France, it is her friend Daisy who gets to be the first to experience all that the Sims 3: High End Loft Stuff Pack has to offer.
Daisy came from a wealthy family and invested a good chunk of her inheritance into purchasing this loft. Once a science facility, the building was gutted and re-built on the inside to accommodate Daisy's lifestyle.
She's a young adult with the party animal trait, a charismatic nature and an ambition to become a rock star. As she didn't want to blow her entire savings on the most expensive furniture available to her, she decorated the place with colorful, mismatched furniture. She spent most of her initial time in Sunset Valley working on her music skill so she could advance at her job at the theater.
She also threw parties at her loft, hung out with her BFF Celia and talked about the stresses of being a pop star.
Then she finally hit the big time. She achieved her life goal of becoming a rock star, enjoyed the fruits of her labor as she signed autographs and made big money performing concerts….
And she finally gave herself some time for love.
Enter Xander, her new live-in boyfriend. His success in writing and Daisy's career as a rock star afforded them some upgrades on their living situation. Thankfully, High End Loft was able to provide them with many of the things they desired.
Here's the before picture of their living room:
And here's the after. I altered the color of the couches a bit from the default but everything else is as it comes in the game.
In addition to a new stereo and TV, Daisy also got herself a game console to play video games.
The new aquarium holds six fish. Daisy was able to put fish she'd caught in the pond outside into the tank. They're about as tiny as the ones in the fish bowl but at least she can fit more than one in there ate a time. I'm guessing this'll be helpful for Sims with the Perfect Aquarium life aspiration as they won't have to line up twelve fish bowls (or however many are required to hold each perfect fish).
The "office" area of the loft looked like this before:
Now they have two new bookshelves, a new computer, desk, two new chairs and a standing lamp as well as the wall light. The door was also upgraded. There's a matching window available but I didn't want to change much about the look of the outside of the building. Unfortunately, there were no new curtains available.
They made some minor alterations to the pool area of the main level, upgrading the stairs. Here's what it looked like before:
And here are the new clear, glass stairs:
Here's what the kitchen area looked like before…
There were no new appliances, stools or kitchen counters available in the stuff pack but I do believe there were some new metals available (at least, I don't remember seeing the checkered pattern), so they did some cosmetic alterations to the kitchen and upgraded the stools. You'll also notice the second of the three 10th anniversary items: The Electric Guitar (the first was the aquarium). And on the wall is a framed guitar.
Daisy loves her new guitar…
Now for upstairs. The master bath and bedroom were pretty plain before…
Among the new bathroom items is a corner bathtub that looks great but takes up so much space that they had to put it in the bedroom (which I sort of love). The shower's a bit odd and I had to use the arrow-thing on the bottom to figure out which way it was supposed to face. As for the bedroom, the pack comes with a full set of new furniture.
The third and final 10th anniversary item is the heart shaped vibrating bed. I let Daisy and Xander try it out but returned it later because it wasn't really to their taste.
They redid the second floor deck with a new firepit and the funky new treadmill.
And finally, the clothes. The new hair and clothing are a bit too Star Trekky for my taste but Daisy and Xander were both eager to try out some new threads and hairstyles, so here are their befores and afters.
Daisy before…
Daisy after. The first is her formal outfit, which I left as the default. Seems a bit '80's to me and the hairstyle looks like a helmet. The second photo is her everyday outfit. Of the two new hairstyles, I think this one works better for her. I adjusted the color of the skirt to match the top.
And here's Xander's before…
The "after" hair is a good look for him, I think. Sleeker. It screams, "I used to be a poor writer but now I'm rich and I totally sold out!"
As for the outfits, again, they're a bit on the odd side but I think it'll be fun to see some Sims wandering around Sunset Valley dressed like they just got off the Enterprise.
And that's about it. There were no new pajamas, bathing suits or athletic-wear for them to try out.
There were a couple of other items (a deck chair, a new phone the window that matches the door and some clothes) that I didn't include but the bulk of what's offered in the High End Loft Stuff Pack is featured above.
What's missing from this pack?
The elevator and the hot tub! Both of these items have yet to be introduced into The Sims 3 and I think it would've been great to build a loft that had an indoor hot tub and definitely an elevator. In fact, I'm willing to go as far as to say that those two items would easily justify the $20 price tag on this pack. Not that the aquarium, electric guitar and vibrating bed aren't great but for for those of us who get frustrated trying to incorporate stairs into our floorplans, the elevator in Sims 2 was always a great convenience. And the hot tub was great for socializing. Without those two items, I'm on the fence. It's not that I'm not satisfied with most of what's offered in the pack, but the price still feels a bit high. Perhaps my thoughts on that are skewed a bit after familiarizing myself with the online store that EA offers Sims 3 players.
EA's Online Store gives players the opportunity to purchase points ($10 for 1000 points), which can be used to buy sets or individual items to add to their game. Obviously, with this Stuff Pack, it eliminates a buyer's option to purchase only what they know they'd use. For example, if you don't care for the new clothes and hairstyles that go with a particular theme, you might prefer to buy the furniture and decorations piece by piece. The store allows you to do that but this pack doesn't.
There was talk on the Sims 3 forums of a glitch that was giving some players 1000 Sims 3 Store points when they registered the stuff pack on the website. For those of you who heard about this, I'll tell you that I registered my game and didn't receive any additional points (I did when I registered the base game and World Adventures). So either the glitch has been corrected or it only works for some people. Either way, don't count on getting those points as I don't think EA intended on offering the credit to begin with.
Over all, I'm relatively pleased with the stuff pack as the furniture alone definitely freshens up the look of my game. I think my love for lofts and modern, funky decor will make this stuff pack a worthwhile addition to the game for me.
For anyone interested in playing Daisy in their Sims game, I've uploaded three versions of her loft to my Sims exchange.
This is Daisy when she was first starting out, so her skill level is low and she hasn't started on her music career track (contains a few items from World Adventures and the store but mostly base-game items):
Here's Daisy and Xander and their loft before they upgraded to High End Loft. Daisy's skills have progressed substantially from the previous save above and both she and Xander have achieved their life goals (contains some items from World Adventures and the store but mostly base game items):
And finally, here they are with their redone Loft…
Your Daily Blend of Entertainment News
Assistant Managing Editor
Kelly joined CinemaBlend as a freelance TV news writer in 2006 and went on to serve as the site's TV Editor before moving over to other roles on the site. At present, she's an Assistant Managing Editor who spends much of her time brainstorming and editing feature content on the site.