Smite Celebrates Milestone By Adding Kevin Sorbo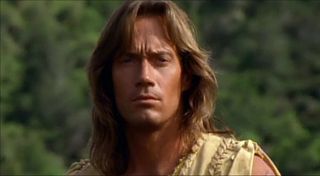 Hi-Rez Studios has a special milestone treat for fans of their game Smite. They're offering a free classic skin for the character Hercules along with the voice-over support from movie and television actor Kevin Sorbo.
The news has been spreading around as fans of the television show Hercules: The Legendary Journeys have been showing a lot of excitement for the update, as reported by GI.biz. This update was celebrated with a promotional trailer that you can check out below.
So basically, as a reward for hitting 10 million registered users across PC and Xbox One, gamers will have access to the Hercules pack. This is unlocked by simply completing 10 PvP matches, which grants you access to Hercules, the "Retro Herc" skin and Kevin Sorbo's voice pack.
This will likely resonate well with fans of the old Hercules television show. This isn't even the first time that Kevin Sorbo voiced a game, much less the first time he's voiced Hercules in a video game. In fact, Sorbo first dabbled in voice acting for video games with the Wii title The Conduit. It was one of the last few games that received critical praise from High Voltage Studios. Sorbo then voiced Hercules in God of War III for the PS3 and later God of War: Ascension. In between this time Sorbo also happened to lend his vocal acting talents to games like Skylanders.
Yeah, the Skylanders thing took me by surprise, too.
As for Kevin Sorbo voicing Hercules in Smite... I didn't think Hi-Rez was doing that well with the MOBA but if they have 10 million registered users they're obviously doing well enough.
Smite is hailed as one of the few MOBAs that stands apart from Dota 2 and League of Legends because it has its own flair and style. The game is played like a third-person hack-and-slash title as opposed to the isometric point-and-click approach taken by the other MOBAs, including Blizzard's most recent Heroes of the Storm.
According to an interview with Develop, Hi-Rez Studio president Todd Harris explained that the company had a lot riding on the success of Smite and that it was good that the game managed to turn a profit for the company because it meant a lot of people got to keep their jobs.
Smite's success comes after two other games that didn't quite turn out to be as long-lasting as Hi-Rez may have hoped: Tribes: Ascend and Global Agenda. Both games were beloved by dedicated members within the gaming community, but they just didn't reach a wide enough audience.
With Smite, Hi-Rez is definitely reaching an audience and despite a little run-in with religious censors, the game has managed to just keep growing and growing, even to point and where they were able to bring in Kevin Sorbo to provide voice-acting for the game.
Staff Writer at CinemaBlend.
Your Daily Blend of Entertainment News
Thank you for signing up to CinemaBlend. You will receive a verification email shortly.
There was a problem. Please refresh the page and try again.