Starbound Dev Is Publishing Stardew Valley, Other Indie Games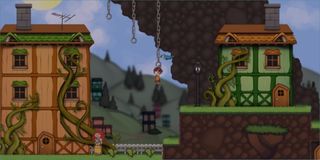 You like Starbound? I love Starbound. I wish I had more time to play Starbound. Even if I didn't have more time to play Starbound, I like that the money went to a developer who cares about the industry and wants to expand and grow game culture in a grand way. Speaking of growing and expanding the industry...
Chucklefish is making headway in the game development and publishing space. They're opening up new offices in London and expanding their publishing portfolio by an expansive margin.
The news comes courtesy of an official post on the Starbound website, rolling out a textual roadmap for the team's future plans of development for Starbound, additional administration content for the game called Director Mode, better mod support, more end-game content and a better tier for star system exploration. In addition to Starbound content, the team also has a new game in the works, but it's going to be developed by a separate team and they're hiring developers within the UK region to help work on the game.
Beyond their own internal developments for the million-plus selling survival, galactic exploration game, Chucklefish is also helping other enterprising indie companies get a foothold in the industry by helping publishing their titles, such as the adorably entertaining platformer, Treasure Adventure World.
In addition to Robot Studios' Treasure Adventure World, Chucklefish also has a hand in upcoming games Halfway, the Harvest Moon-esque title called Stardew Valley, and the colorful overhead Dwarf Fortress-style game, Wanderlust: Adventures.
Chucklefish obviously isn't getting off the ground to become the next Activision or Electronic Arts – although, that's not to say that they can't get just as big with a little hard work and a few more smash hits under their belt like Starbound – but they're obviously helping to put back into the industry what gamers put into their pockets, and that's a very noble thing.
With the offices opening in London, Starbound still selling like Transformers films to pubescent Michael Bay admirers during summer break, and the publishing thing taking off, I think it's safe to assume that Chucklefish is really moving in the right direction and at a decent pace. The game is also scheduled to appear on Sony's PS Vita and PlayStation 4 sometime in the near future, and that's really going to help boost the appeal and prestige of the Chucklefish brand.
I sure hope they don't over-extend themselves too early and fizzle out early like CM Punk's wrestling career, similar to a somewhat promising publisher going by the name of Gamecock... anyone remember them? Exactly.
We'll be keeping a close eye on Chucklefish and their publishing endeavors. Hopefully things turn out as well for them in the long run. Everyone and their cousin knows that we could use an honest publisher or two these days.
Staff Writer at CinemaBlend.
Your Daily Blend of Entertainment News
Thank you for signing up to CinemaBlend. You will receive a verification email shortly.
There was a problem. Please refresh the page and try again.