State Of Decay Patch Coming Next Week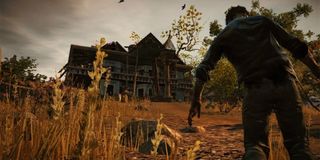 Xbox Live Arcade zombie adventure State of Decay will be receiving its first title update soon. Developer Undead Labs announced on Thursday night that they've submitted the patch for certification and it should go live next week.
In State of Decay, a mysterious outbreak has turned most people into ravenous zombies. Players control the few remaining humans. They must establish a home base, secure supplies, and fight off zombie attacks.
Title Update 1 aims to correct the sometimes wacky behavior of NPC's. Expect them to get stuck less often during missions. They'll now move to their proper positions in cutscenes. Furthermore, they should interact with your base's amenities more consistently.
One of the interesting aspects of the game is how it continues even after you've quit. Survivors will continue running errands while you're away, and a workshop you started building right before quitting will be finished when you get back. This feature isn't without its flaws; apparently some playable characters were getting themselves killed during this simulation time. That will be fixed with this new patch, though.
Perhaps the biggest fix in this patch regards zombie infestations. Players were being inundated with "Too many infestations!" alerts during the game. Now, these alerts will only occur when there's three or more infestations near your home base.
State of Decay launched two days ago but there's already plenty of people waiting for this patch. Last I checked, there were over 200,000 players on the leaderboards.
The full patch notes for TU1 are below:
Staff Writer at CinemaBlend.
Your Daily Blend of Entertainment News
Thank you for signing up to CinemaBlend. You will receive a verification email shortly.
There was a problem. Please refresh the page and try again.