Steam Machine Prices and Specs Guide: Which Valve Console Should You Buy?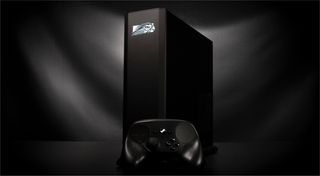 Valve has announced the official pricing and specs for the first 15 officially licensed Steam Machines. Their lowest end models start at $459.99 and scale up to $4999.99. All the details you could need on the customizable computers designed to snugly fit within your living room entertainment center have been made public.
For those of you not sure what Steam Machines are, they're basically PCs in console-style boxes. The idea is to allow gamers to put desktop quality PCs right next to the TV and allow gamers to play their Steam library from the comfort of their couch. You could technically do the same thing if you felt like moving your desktop into your living room and installing SteamOS so you can use a controller to navigate instead of the mouse; but for those of you content with keeping business and pleasure separate, the Steam Machines offer a convenient solution to get all your PC gaming needs without all the clunky hardware or setup.
The 15 available Steam Machines are listed below along with their starting prices. Check them out.
iBuyPower SBX – Starts at $459.99
Alienware Steam Machine – Starts at $479.99
Syber Steam Machine – Starts at $499.99
Gigabyte BRIX Pro – Starts at $599.99
Asus ROG GR8S – Starts at $699.99
Digital Storm Eclipse Steam Machine – Starts at $699.99
NextBox – Starts at $799.99
Maingear DRIFT – Starts at $849.99
Materiel.net Steam Machine - Starts at $899.99
ORIGIN OMEGA Steam Machine - Starts at $899.99
Webhallen S15-01 – Starts at $949.99
Scan 3XS ST Steam Machine - $999.99
ZOTAC Steam Machine SN970 – Starts at $999.99
Alternate Steam Machine – Starts at $1099.99
Falcon Northwest Tiki Steam Machine – Starts at $1,999.99
Good goodness, that Tiki Steam Machine's price. That's insane.
The Tiki ORIGIN OMEGA both scale up to $4,999.99. Why? In the case of the OMEGA, it contains 14TB hard drive, three-way SLI technology for GTX 980s and 4K supported resolutions for the highest levels of anti-aliasing. That's in addition to the 32GB of RAM clocked at a whooping 1866mhz. The Tiki scales a little lower with a 16GB ceiling of RAM and an 8TB SSD. However, it supports the Titan-Z class GPU.
To put that into perspective, the ORIGIN Omega Steam Machine is 1050% more powerful when it comes to graphics processing over the Xbox One. Of course, though, you really do pay for that power advantage.
On the very lowest end of the totem the specs are not nearly as impressive. The iBuyPower SBX sports 4GB of RAM, a 500GB hard drive, an ATI Radeon R7 250X with 1GB of GDDR5 VRAM and an AMD Athlon X4 840. That's still slightly more graphics processing power than the Xbox One's GPU but not quite on par to the PS4.
The middle-of-the-road Steam Machines priced around $700 offer 8GB of RAM and a GPU that absolutely mops up the floor with the home consoles. They range between the Nvidia GTX 750 with 2GB of VRAM to the GTX 9xx series.
Ultimately you can pick and choose how you want to scale, and since each of the Steam Machines are customizable you can upgrade at a later date if you choose to.
All of the above mentioned Steam Machines will be available this November at their listed prices. You can learn more by paying a visit to the official Steam website.
Staff Writer at CinemaBlend.
Your Daily Blend of Entertainment News
Thank you for signing up to CinemaBlend. You will receive a verification email shortly.
There was a problem. Please refresh the page and try again.