WWE 2K15 Is Finally Coming To PC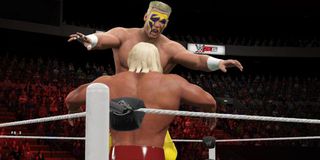 WWE 2K15 will soon no longer be a console exclusive. 2K Games plans to finally release a PC version of the wrestling game later this spring.
The PC version of WWE 2K15 will have all of the features of the console editions, including the new 2K Showcase mode. 2K Showcase highlights moments throughout WWE history. For example, "One More Match" lets us relive the 2011 rivalry between Randy Orton and Christian while "Path of the Warrior" takes us through the career of the Ultimate Warrior. Each Showcase introduces new playable characters and arenas for player's collection.
Unlike console gamers, PC owners won't need to pay extra for WWE 2K15's downloadable content. 2K plans to release all three DLC Showcases and the game's other add-ons for free on PC, perhaps as an apology for the longer wait. The game's DLC includes WWE Diva Paige, instant unlocks, and new moves. It also adds a combined ten characters from the NXT Arrival and WCW Packs. Console gamers had to pay well over $40 to get all of this content for WWE 2K15.
"That's an incredible amount of content: 36 extra characters, 4 new managers, 26 matches, 46 entire single player stories and cut scenes in 2K Showcase, and a whole lot more. It doesn't take a rocket scientist to figure out that that's a pretty awesome deal," John Cena told WWE.com. Yes, they really enlisted Cena to sing the praises of downloadable content for the announcement. I suppose it's part of his duties as cover athlete.
No other features of the PC edition were mentioned. There's not even a vague mention of technical improvements. Don't be surprised if the PC game looks pretty much exactly like its console counterparts, then.
Today's announcement didn't reveal a specific release date for the PC version of WWE 2K15. They merely say that the game's PC debut is "weeks away" so we'll see it in May at the earliest.
WWE 2K15 has been available on Xbox One, PS4, PS3 and Xbox 360 since October. Although they (usually) don't come with free DLC, the console editions are now about $30 in stores so that might make them worth considering nonetheless.
Image 1 of 6
Your Daily Blend of Entertainment News
Staff Writer at CinemaBlend.
Your Daily Blend of Entertainment News
Thank you for signing up to CinemaBlend. You will receive a verification email shortly.
There was a problem. Please refresh the page and try again.