Watch Nathan Fillion Reprise Role As Malcolm Reynolds For Firefly Online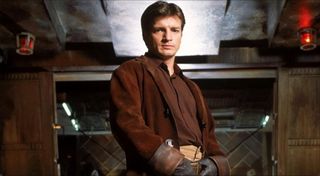 One of the most endearing series that fans will absolutely not let die is Firefly. The show didn't fare too well on national TV but it's finally making a return as a free-to-play online game, and the lead from the show, Nathan Fillion, is back to fulfill the role of Malcolm "Mal" Reynolds.
Gamespot spotted the new video featuring the returning of Nathan Fillion as Mal from the Fox TV show Firefly. The video includes a brief behind-the-scenes look at Fillion stepping into the recording booth to record lines for his character. You can check it out below.
This confirms that the Firefly crew will at least make an appearance throughout your travels when the MMO finally launches. I do wonder how they're going to handle the progression of the game because Alan Tudyk's character "Wash"... well, let's just say that if you haven't seen the movie Serenity it's going to be tough to see how the character has any significant story ties that stretch throughout the game.
The game itself is supposedly due to release sometime this spring for PC. An app was already released on Steam to give gamers and fans an idea of what to expect when Firefly Online finally goes live. The Firefly Online Cortex works a companion app to help gamers get accustomed to the game's universe, lore, space ships, characters and locations. The app, which is free to access, also allows gamers to stay tuned in to the developmental progress of Firefly Online.
Spark Plug Games is still working hard on the upcoming strategic space title, which – when looking over the features on paper – seems to be shaping up to be a little like Elite: Dangerous-lite.
With Star Citizen seriously putting space simulators back into the news circuits on a regular basis, it's not surprising that more space sims are starting to gain a bit more of a foothold in the industry and a stable following. This actually helps all sorts of developers, especially QMx Interactive and Spark Plug Games, as various space sim fans who won't be able to wait for Star Citizen or who passed on Elite: Dangerous might be inclined to dip their toes into Firefly Online as a way to compensate. That's all assuming that the upcoming title based on the popular TV show can live up to what moderate hype it's managed to attain.
Many gamers have put licensed properties on the back-burner in recent years, even more-so for MMOs. So Spark Plug Games has a lot to prove with the title. However, focusing more on the strategic elements of galactic space travel, transit and smuggling runs might help the game not get hammered too much for being an LP-based MMO. The gameplay quality is key so that they don't end up getting railed on like the early days of Star Trek Online or the last days of Star Wars Galaxies.
You can keep an eye on Firefly Online by visiting the official website. You can also check out the past behind-the-scenes clips with the cast by visiting the official YouTube channel.
Your Daily Blend of Entertainment News
Staff Writer at CinemaBlend.