The Wolf Of Wall Street Recreated In Grand Theft Auto 5 Is Brilliant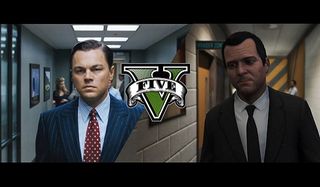 The latest in a long line of "remake a thing in a video game" videos has hit the internet, and this one may be one of the most accurate to date. Get ready to revisit The Wolf of Wall Street as seen through the lens of Grand Theft Auto V.
It's not too often that one of these movie trailers recreated within the world of a game is so well matched to the game that's being used. Grand Theft Auto V is about a bunch of guys trying to cheat the system and break a few laws in order to make as much money as humanly possible. That same description could be used for director Martin Scorsese's 2013 epic, The Wolf of Wall Street.
Youtube user Powerlight-13 apparently noticed these similarities, and decided to recreate the popular trailer for the movie within Grand Theft Auto V. It's a pretty great rendition, actually.
Pretty great, right? I'm not sure how long it takes to put together something like this, but I'm certainly happy to be the guy who gets to watch them rather than stress over all of the details. Powerlight-13 clearly poured over the details, scouting locations within the game that matched up with the movie and creating characters that were close approximations of their The Wolf of Wall Street counterparts. The only scene that isn't basically spot-on features a conversation that occurs across a counter, rather than across a table like it was in the original movie. The limitations of working within a game, I suppose.
Sadly, all we can do is speculate about the process, how much work/time it took and the like since Powerlight-13 offers up zero details attached to the video itself.
If, however, your memory of the original trailer for The Wolf of Wall Street isn't super sharp, he did at least go the extra mile and offer a side-by-side comparison alongside his own creation. Take a look for yourself to see just how close this fan-made trailer got to the real thing with GTA.
Grand Theft Auto V is getting a lot of love in the fan community these days. Just last week we reported about a group of gamers who are recreating the entire game map within Minecraft, yet another impressive feat born out of nothing more than love of the property.
But while fans are showing their love for GTA in all of these creative ways, we've got to pause and wonder what Rockstar themselves are up to these days. It's been a couple years since GTAV hit the scene, which means they're probably due for a new title soon. Are we expecting another GTA or perhaps the highly requested Red Dead Redemption 2? Might they surprise us with an entirely new IP. Let us know your predictions in the comments below.
Your Daily Blend of Entertainment News
Staff Writer for CinemaBlend.