World Of Darkness MMO Cancelled By EVE Developer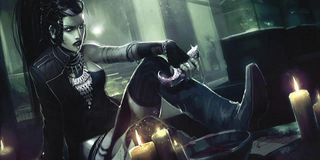 World of Darkness, an MMORPG based on the Vampire: the Masquerade pen-and-paper RPG, is no more. CCP Games announced today that they've scuttled the project following over four years of development.
"The decision to end the World of Darkness MMO project is one of the hardest I've ever had to make," said CCP CEO Hilmar Veigar Pétursson in a statement released by the company. "I have always loved and valued the idea of a sandbox experience set in that universe, and over the years I've watched the team passionately strive to make that possible."
CCP laid off 56 employees at their Atlanta studio who were involved with the game. Some are being reassigned to other projects within the company.
In World of Darkness, players would take on the role of vampires hidden in normal human society. Politics was going to be a big part of the game, with players jockeying for position in the vampire's shadow governments. They could even be elected Prince, the vampire head of a city. CCP released the first in-game footage in 2012:
CCP officially announced the project in 2009. Two years later, they shrank the development team. Some of the WOD team members that weren't laid off were moved to the development team for MMO shooter DUST 514.
The company explained World of Darkness' cancellation in much the same way they explained the project's downsizing in 2011: they want to focus on the EVE universe. Currently that universe encompasses space sim MMO EVE Online and DUST 514. CCP is also developing EVE: Valkyrie, a multiplayer dogfighting game for PS4 and PC that supports virtual reality headsets. Valkyrie is expected sometime in 2014.
"To our current and former employees and fans of World of Darkness, I am truly sorry that we could not deliver the experience that we aspired to make," Pétursson said. "We dreamed of a game that would transport you completely into the sweeping fantasy of World of Darkness, but had to admit that our efforts were falling regretfully short. One day I hope we will make it up to you."
"Although this was a tough decision that affects our friends and family, uniting the company behind the EVE Universe will put us in a stronger position moving forward, and we are more committed than ever to solidify EVE as the biggest gaming universe in the world."
White Wolf, the publisher of Vampire: the Masquerade and other World of Darkness pen-and-paper games, merged with CCP in 2006. The chance of another company stepping in to make WoD seems slim, then. At least WoD fans have one really good game to play in that universe, though. That's one more than some fanbases have ever gotten.
Your Daily Blend of Entertainment News
Staff Writer at CinemaBlend.