Xbox Marketplace Offers Cyber Monday Deals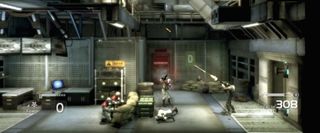 The Xbox 360 Live Marketplace has hosted quite a few sales through the Black Friday weekend and, today, the special promotions continue with a crop of Cyber Monday deals.
The list of Cyber Monday deals went up this morning on Major Nelson's blog, highlighting seven games and DLC at a 50 percent discount. As you might guess from the "Monday" in the promotion's name, these prices are good for just one day only. If you're looking for some extra gaming goodness to dig into this holiday season at half the price, then this latest batch of discounts just might have you covered.
First up is the four-player top-down dual-stick shooter, Expendables 2. Featuring all of the bullets and explosions you would expect from a game based on an action movie with the most ridiculous cast of all time, you can now get your hands on Expendables 2 for just 600 MSP. If you're looking to take your experience a little bit further, you can also pick up the Expendables 2 Full Access and Upgrade DLC for 120 MSP more.
Next up is the tongue-in-cheek Batman-infused first-person shooter, Gotham City Imposters. Unleash goofy gadgets and buckets of bullets for just 600 MSP.
If over-the-top third-person violence is more your taste, Bloodforge can be had for 600 MSP while the robotic boxing title, Real Steel can be yours for 400 MSP.
Metroidvania action platformer Shadow Complex joins the Cyber Monday promotion for 800 MSP while the Left 4 Dead 2 Cold Stream DLC will be going for 280 MSP.
As a final reminder, these Black Friday deals are good through the Xbox 360 Live Marketplace today only, so move quickly if anything here caught your interest.
Staff Writer for CinemaBlend.