The One Black Widow Scene That The VFX Team Wishes They Had More Time On
By Jeff McCobb published
Can you spot the flaws in this sequence?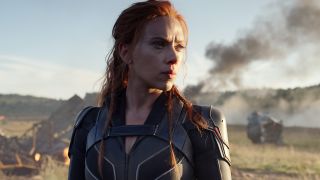 (Image credit: Marvel Studios)
Marvel movies like last year's Black Widow are notoriously effects-heavy, and they bring on the best visual effects artists in the industry to help bring the story to life. However, it's well-known that VFX folks are often on a tight turnaround to complete projects, which would likely leave them wishing that they had more time to tinker with certain sequences. Such is the case with Scarlett Johannsen's award-winning final appearance in the Marvel Cinematic Universe, as there's one scene that the Black Widow effects team isn't quite satisfied with.
In the end, they're all happy with the work they did. And they should be, as the film is visually stunning and on-par with most MCU offerings. But when VFX supervisor Craig Hammack was asked if he had any regrets six months later, he said this:
The scene in question is an important one, but as Hammack states it was added later on, so they could only do their best within a finite period of time. The last scene of the film (post and mid-credit scenes excluded) sees Scarlett Johannsen's Natasha Romanoff meet up with O-T Fagbenle's Rick Mason, who has hooked her up with a fully-functioning Quinjet. Natasha sets off on a mission to break some of her "family" out of prison, clearly alluding to the events following Captain America: Civil War. If you need a refresher, you can check it out here:
The scene was necessary to solidify Black Widow's connection to the larger MCU. After all, fully understanding the timeline of Marvel movies can be tricky. In the end, the whole team seemed to be very satisfied with the final product, and the need to continue tinkering may just be a habit of the trade. VFX supervisor Geoffrey Baumann doubled down on this point:
Despite pandemic delays, piracy issues, a highly-publicized lawsuit, and one slight twinge of Quijet regret, it's fair to call Marvel's Black Widow a success. Fortunately for all of us geeks, there is a slew of upcoming superhero movies on the way. As for upcoming 2022 releases in general, we've also got you covered.
Jeff is a film buff who is ridden with gratitude that he gets to spout opinions about them for a living. He currently resides in Los Angeles, where he enjoys feeding his addiction to buying furniture on Amazon.
Your Daily Blend of Entertainment News
Thank you for signing up to CinemaBlend. You will receive a verification email shortly.
There was a problem. Please refresh the page and try again.