After The Last Of Us And Uncharted, 5 PlayStation Video Games That Need Adaptations ASAP
Someone needs to hurry up and press start on some of these ideas!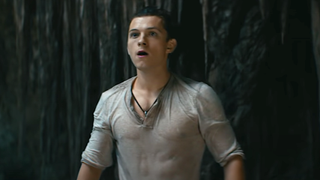 (Image credit: Sony Pictures)
Friends, we just might be in the golden age of video game adaptations. A prospect once frowned upon and met with eyerolls has now turned out prime TV like The Last of Us and blockbuster movies like Uncharted. Coincidentally enough, both of those titles are Playstation exclusives, and the 2023 new movie releases has another on the way in Neill Blomkamp's Gran Turismo.
And yet, there are some amazing PlayStation video games that still need adaptations ASAP, especially if they're as lovingly crafted as those examples. Here's five projects that should seriously be considered since so many video games adaptations have been well received as of late.
The Sly Cooper Series
We almost had a film version of the Sucker Punch franchise that saw a raccoon, a turtle,and a hippo going all Ocean's Eleven on a vast criminal network of thieves. Sly Cooper was in the pipeline for 2016, around the same time Ratchet and Clank was being made into a cinematic abomination that actually got released.
If there's a prize for "the one that got away" in video game movies, Sly and the gang surely deserve it. A heist caper story that saw three orphans trying to restore a family legacy, Sly Cooper has always been chock full of wit, intrigue, and style.
If we were able to convince the likes of Guy Ritchie, or maybe even Steven Soderbergh, to bring this series to animated life, it could be Christmas for fans who never got that first movie. Bonus points if George Clooney, Matt Damon and Brad Pitt are cast as the three leads, for old time's sake.
Infamous
In a world where superheroes are still bringing in the big bucks, it's nice to have some options that aren't as restricted as the mainstream. Much like how 1989's Batman spawned adaptations of The Rocketeer, The Shadow and The Phantom, the Marvel vs. DC conflict is fertile ground for heroes that don't come from those canons. So why the hell isn't Infamous already its own cinematic universe? You know, besides the fact that THR had announced an adaptation with former Marvel Studios producer Avi Arad back in 2009.
Starting up around the same time Iron Man was blowing people's minds, this fellow Sucker Punch game series centered around augmented humans who have accidentally been given elemental powers. Through their adventures fighting fascism, discrimination and the criminal elements, the varied protagonists of the titles across the Infamous series would be tempted to go light or dark with their abilities. Maybe if someone could convince the powers that be to make another game in this franchise, the world could be convinced just how awesome this cinematic voyage could be.
Shadow of the Colossus
Every canon needs an epic that really shakes the foundations of genre and spectacle, and Sony's PlayStation is no exception. Shadow of the Colossus is that sort of project that, if broken into a trilogy, could truly capture the quest of young Wander and his efforts to try and resurrect the love of his life. When that quest includes 16 Colossi that are massive and formidable in scope, you can see why it'd need to be several films long.
There was a period of time where directors like IT's Andy Muschetti and Chronicle's Josh Trank were on board to make a potential Shadow of the Colossus movie happen. But seeing as you're reading the title on this list, you can see where those efforts wound up.
It's not a bad idea to bring to the screen, as a massive IMAX-friendly saga could see this adventure of heartbreak and battle become a theatrical must-see event. Of course, that depends on the weirdness threshold of whomever is tapped for the duties, as Shadow of the Colossus does get weird with its creatures and storyline.
Ape Escape
Whether it's Minions, Gremlins or Rabbids, the world can't seem to get enough of cute, but mischievous groups of creatures that bring havoc to the world. Sony had its own series of mischief makers in the early PlayStation 1 days, courtesy of the game series Ape Escape.
The premise itself was pretty simple: a smart monkey named Specter uses a system of helmets that boost ape intelligence to unleash an adorable army upon the world, and you have to stop him. It's simple, colorful and a project that has seen monkeys cause mayhem on Earth, as well as in space.
Acting as a crossroads between the ever theme park-ready Minions adventures and a less apocalyptic version of Planet of the Apes, Ape Escape could be the next family blockbuster franchise waiting to go to the movies. Considering how many crossovers the PlayStation game franchise actually landed with games like Ratchet and Clank and fellow adaptation-in-wait Metal Gear Solid, there's just as much potential for the monkeys to meet up with another kids movie saga in the name of doing comedic damage.
Incredible Crisis
I will fully admit that this last candidate is an oddball, as Incredible Crisis isn't a huge IP that saw Sony sequelize it to no end. Come to think of it, I remember this 1999 game being rather hard to get your hands on after a certain point in the US market. It was totally worth it though, as playing through this game was a chaotic, but brilliant experience that has a lot of movie DNA already in its blood.
Ever wanted to play a game where E.T, Titanic and Independence Day all influenced one unlucky family's day from Hell? Sure you have, and that's what's at stake, and more, in this title! The best part about Incredible Crisis is that it doesn't need to be a huge saga that spans platforms and entries.
Rather, it's one insane journey that is compressed into a day, and perfect for a raucous anime extravaganza to cover all the bases. Bucking the trend of all the other titles mentioned, Incredible Crisis would work best as individual bursts of WTF that see people shrunk, enlarged, chased by gigantic rolling globes, and abducted by aliens. Oh, and the soundtrack has to be done by the Tokyo Ska Paradise Orchestra, as only their music could capture the insanity of this improbable comedy.
PlayStation's expansive library of exclusives undoubtedly has even more potential movies waiting to be made in its library. That's on top of games like Metal Gear Solid that are well associated with the platform, but aren't total exclusives anymore. Since Sony's already off on a good foot with The Last of Us and Uncharted, it's probably a good idea to stick to the home team for the moment. After a couple more successes under its belt, maybe the company can start partnering up with other parties; but only time and further experimentation will tell.
Your Daily Blend of Entertainment News
Senior Movies Contributor
CinemaBlend's James Bond (expert). Also versed in Large Scale Aggressors, time travel, and Guillermo del Toro. He fights for The User.