All Quiet On The Western Front: What To Know About The Academy Award Nominated Movie Before You Watch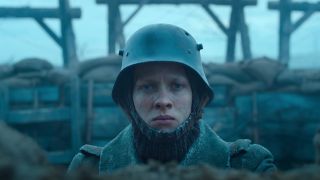 (Image credit: Netflix)
When the 2023 Academy Award nominations came out in January 2023, there were a lot of movies everyone expected to see garner a lot of nods, including Avatar: The Way of Water, Everything Everywhere All at Once, and The Banshees of Inisherin. However, there was one film that may have come as a surprise to some, and that is the 2022 Netflix movie All Quiet on the Western Front, which is nominated for a total of nine Oscars, including Best Picture and Best International Feature Film.
If you are just now hearing about All Quiet on the Western Front, or have been meaning to add it to your Netflix queue, now is your golden opportunity to check out one of the most enduring, and emotional military dramas released in years. But before you do so, here are a few things you should keep in mind about one of the best movies on Netflix.
All Quiet On The Western Front Tells The Story Of A Young German Soldier Trying To Survive World War I
There have been a lot of great World War I movies released over the years, with Sam Mendes' 1917 being one of the best recent examples. All Quiet on the Western Front is similar in a way, as it focuses on a young soldier attempting to survive and endure the hell that was the frontlines of the "War to End All Wars." However, there are a few key differences, including the fact that All Quiet on the Western Front centers on a German soldier, as opposed to a Brit, and that the movie takes place over the course of many months.
The Movie Is Based On Erich Maria Remarque's Landmark 1929 Novel Of The Same Name
If the title All Quiet on the Western Front sounds familiar, it's because it's based on Erich Maria Remarque's 1929 novel of the same name, a cherished and highly influential novel that has exposed generations of readers to the horrors of military conflict and the enduring human spirit. But the 2022 page-to-screen adaptation wasn't the first time Remarque's groundbreaking novel has been turned into a movie, as a version came to theaters back in 1930.
All Quiet On The Western Front Is An Anti-War Movie
One thing you should keep in mind before watching All Quiet on the Western Front is that it is an anti-war movie that doesn't sugarcoat conditions on the battlefield, nor will it leave you with a happy or optimistic feeling once the credits roll. It's brutal, dire, traumatic, and gut wrenching, to say the very least. But despite leaving me feeling gutted, the movie also left me with a better understanding of the foot soldiers on both sides of the war and how many ended up casualties of merciless and power-hungry politicians and generals who would rather sacrifice countless souls than their own ego.
The Movie Is In German With English Subtitles
You should also know that All Quiet on the Western Front is in German with English subtitles. And though there is the option to watch the movie dubbed in English (a pretty good dub at that), experiencing the movie this way takes away some of the impact of the performances by the incredibly talented cast.
All Quiet On The Western Front Is Nearly Two-And-A-Half Hours Long
Like other military epics, All Quiet on the Western Front has an extensive runtime of nearly two-and-a-half hours. And this is a long, grueling, and violent two-and-a-half hours filled with the whole gamut of emotions as its story unfolds.
All Quiet On The Western Front Is Rated R For Extreme Violence And Gore
This should come as no surprise, but All Quiet on the Western Front is rated R due to its extreme violence and gore, or as Netflix puts it in the movie's description, "strong bloody war violence and grisly images." If you are squeamish or just don't care to watch slow and brutal death scenes, then maybe watch something else because it doesn't hold back.
If you want to watch All Quiet on the Western Front after reading this, you can do so with a Netflix subscription.
Stream All Quiet on the Western Front on Netflix. (opens in new tab)
Your Daily Blend of Entertainment News
Philip grew up in Louisiana (not New Orleans) before moving to St. Louis after graduating from Louisiana State University-Shreveport. When he's not writing about movies or television, Philip can be found being chased by his three kids, telling his dogs to stop yelling at the mailman, or yelling about professional wrestling to his wife. If the stars properly align, he will talk about For Love Of The Game being the best baseball movie of all time.