Daisy Ridley Explores The Dark Side Of Living With Social Anxiety In Sundance's Sometimes I Think About Dying
The actress' post-Star Wars career is bright.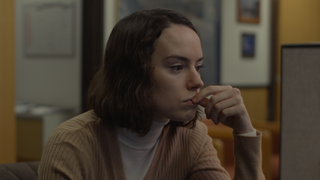 (Image credit: Sundance)
Coming off the whirlwind of fame of Star Wars, Daisy Ridley has kept things relatively off the radar lately. Ridley returned to social media early last year, recently revealed she's now married and has a stack of projects lined up for the near future, and her latest movie premiered at the 2023 Sundance Film Festival. Titled Sometimes I Think About Dying, yes, it's a much more somber film than the lightsaber battles we know the actress from. But wow, is it a beautiful depiction of social anxiety that I hope finds itself on 2023's movie release schedule so more people can experience its unique touch.
Sometimes I Think About Dying is something of a dark comedy that does a rare thing we don't often see in movies. Rather than it being escapist, it feels like an ode to the monotony of life and how difficult and lovely that can be all at once. The movie follows Daisy Ridley's Fran, an awkward young woman living in Oregon who spends the better part of her day in an office cubicle, often getting lost in her imagination throughout the day with surrealist images of her demise.
What especially struck me about Daisy Ridley's latest film is how gracefully it depicts the mind of someone with social anxiety disorder, which 12% of U.S. adults reportedly experience at some time in their lives. It's easy to chalk up living with social phobia as simply being shy or even take it to harmful extremes in movies, but Sometimes I Think About Dying subtly illustrates its realities with a cinematic experience.
It's best explored through the inciting incident of Fran getting a new co-worker in Ramy actor Dave Merheje's Robert. Robert instantly shows interest in Fran and asks her out to a movie, which turns into a conversation over pie, but as he tries to get to know Fran on a deeper level, she gets defensive. She just doesn't think she's that "interesting," and yet throughout the movie, it's clear she wants to engage with her co-workers and so forth; she's just afraid to do so.
Social anxiety can be so debilitating, but there's more to it than just staying home curled up with a book on most nights. It really is as simple sometimes as not knowing what to say during a bit of office banter or becoming afraid your experiences will be judged when asked a question during a date. It's isolating too, as Sometimes I Think About Dying shows Fran often getting in her head as she goes about her day and sitting in her loneliness with her cottage cheese in the evenings.
Director Rachel Lambert delivers on a fascinating, often funny and beautifully-shot little movie with Sometimes I Think About Dying. So much of it is composed of common conversations that feel like a far cry from the blockbuster moments of Ridley's career, like that Palpatine twist or the Reylo romance. This is somewhat of an anti-romantic comedy, but it's very much worth being on your radar, if only to be in the shoes of the kind of introvert we've all met one way or the other.
Ultimately, the Sundance film is full of heart and compassion for anyone living with social anxiety. By the end, even though not a lot happened plot-wise, with it all remaining as internal as the rest of the film, I found myself full of emotion as the credits rolled on this gem of a movie.
Your Daily Blend of Entertainment News
YA genre tribute. Horror May Queen. Word webslinger. All her writing should be read in Sarah Connor's Terminator 2 voice over.
Your Daily Blend of Entertainment News
Thank you for signing up to CinemaBlend. You will receive a verification email shortly.
There was a problem. Please refresh the page and try again.